Frederick Health Taking Advantage of EHR Genomics Module | Healthcare Innovation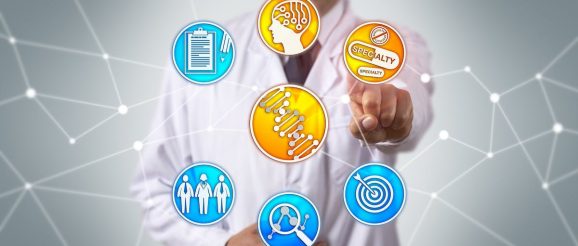 Although it is not a large academic medical center, Maryland-based Frederick Health has made considerable progress in integrating genetic test results into its electronic health record for clinicians to take advantage of.
The health system, which has a 269-bed community hospital, is one of the first to go live with Meditech's Expanse Genomics module after launching a precision medicine program almost two years ago.
"We truly believe that having your genetic information at hand is going to take medicine to the next level," said Jackie Rice, CIO and vice president of information technology, during a recent interview with Healthcare Innovation. "We are not an academic site that you associate with doing all kinds of research. But when I heard that Meditech was doing this, and we could get discrete data, I was very excited about the clinical decision support that we could give our providers."
Robert Wack, M.D., former chief medical information officer at Frederick Health and now a consultant, added that at pretty much every medical center, even the big research facilities, the way they ingest any kind of genetic data is on a piece of paper that's got a report from their testing lab. That gets scanned, and it enters the medical record as a static image. The provider has to pull that image up and then scroll through the pages of it electronically to find the relevant piece of information, he explained.
"For less expert users, those 100-page reports are just a jungle of data that is very difficult to navigate through — especially today with providers being under so much time pressure — usually in the context of a clinical interaction with a patient  in real time," he said. "They don't have time to wade through dozens of pages to find a piece of information. They need the information pulled out and put right under their noses, right where they need it or it's accessible within a click or two. Meditech is really on the bleeding edge of working with the labs to bring the genetic data that is the result of the testing that's done into the medical record as discrete data."
For Frederick, one of the first applications of having the genomic results involves pharmacogenomic testing. The labs they work with are looking at a specific panel of genes that are highly correlated with strong evidence that certain alleles have an impact on the metabolism of certain highly relevant drugs.
"That is now linked through our relationship with First Databank to specific alerts," Wack explained. "When the physician orders that medication, if that patient has had that genetic testing, they get a pop-up message while they're ordering it, saying that this patient has a genetic finding that may impact the dosing or questioning whether this is really the right drug for that patient. We spend a lot of money on certain classes of drugs, particularly psychiatric medications, where we may try three or four different drugs, or three or four different dosing regimens with a particular patient before we get to the therapeutic effect we're looking for. The reason there is so much variability between patients is because of their genetics, and that was a black box for us as frontline providers for the longest time, and now it's not."
He also noted that unlike most other clinical data, the meaning of the genetic information could change over time, because we are still learning about the interaction between these alleles of each gene, the enzymes that they code for, the roles that those enzymes play in drug metabolism, as well as new drugs and new drug interactions.  "There are constantly new studies coming out, so it's a moving target, and this is going to be a new thing for our providers to get their heads around. To understand that what the system says today isn't necessarily what the system's going to say six months from now or six years from now, and that they have to be in constant dialogue with the patient's results and the patient's medical situation, all of that informed by that genetic information that we gathered and is now a permanent part of their electronic medical record."
"I think the clinical decision-making process is going to be improved and curated, so to speak, to each patient, said Kristin Conley, D.O., who succeeded Dr. Wack as chief medical information officer. "We can develop that plan for each patient, not only from an oncology standpoint, but across the spectrum, including where this touches primary care, where it touches cardiology. I am an internist and I work with patients with obesity. I think there's a large role for this to be incorporated into my practice from a nutrigenomics standpoint. And that's the third prong that we'll be adding, probably in the next six months or so, once we get those interfaces up and running, and do some testing there. So there's a lot of exciting data to be absorbed."