Friday Finds: The Best of Learning, Design & Technology | October 26, 2018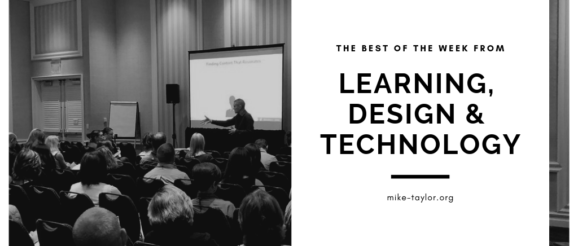 If we stop going, we stop learning…and if we're not willing to keep learning, we should probably stop going. – Seth Godin
Whew! What a week it has been. DevLearn is wrapping up this morning and I'm very grateful for all the great conversations with old friends and meeting some wonderful new ones. I'm looking forward to some reflection time and the chance to dig deeper into all resources and new things I discovered this week….right after a goods nights sleep. Wherever you are I hope you have a great and restful weekend. Cheers!
Is PowerPoint the Ultimate Design Tool?
Yes, I'm serious. So is Tom Howell who runs an agency in Australia. Take a look at some of the reasons and a few examples that just might change your mind. PowerPoint isn't the issue – it is what people do with it.
https://www.synapsiscreative.com/powerpoint-ultimate-design-tool/
DevLearn Resources
Even if you weren't able to be here, you can still tap into a wealth of knowledge and resources. Cruise everything on the DevLearn resources page.
http://devlearn18.com/resources
Lapa Learn
At some point, everyone can use a helpful design tip or trick. Next time you're in that situation cruise over to Lapa Learn. They've got a nice collection of resources for you to learn a wide variety of design topics from UI/UX to icons, typography and more.
Wired Not Tired: Is Curation the Cure for What Ails You?
https://mike-taylor.org/2018/10/24/wired-not-tired-is-curation-the-cure-for-what-ails-you/
Learning, Design & Technology Miscellany
A few other things just because I can.
Conference News
Design Resources
Apps & Tools
Books/Courses/Talks/Podcasts
What I'm listening too
Thanks for reading! If you found anything good, forward it to a friend or
---
I enjoy sharing my ideas and experience with corporate professionals via workshops, keynote presentations, podcasts, and webinars. Learn more in mySpeaking and Workshop Information Sheet.
You can find me at these UPCOMING EVENTS:
December 13th Elearning Webinar: ATD Maryland.
February 4-6 ATD TechKnowledge
March 24-26: Learning Solutions