From Imagination to Innovation | news details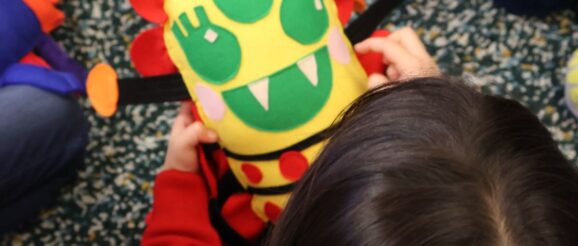 Miss Hazel's Design course is based around the design cycle, and so they used this task to show the amount of planning and preparation that goes into designing and creating a final product. There is a crucial value placed within the design industry of working alongside, with and collaboratively to produce an end product. Miss Hazel felt this is an important skill for the MYP4 students to learn, so they asked Miss Jess and the PYP1 students if they would draw monsters for the MYP4 students to create. The students then learnt and practised applying these key steps to a real-life project. We later found that Ikea runs a similar initiative within their stores, and they choose the top five to create and sell!
Miss Jess asked her Year 1 pupils to use their imagination to draw their very own 'monsters', and they were thrilled to find out that the MYP4 Class was going to make them come to life. It was a fantastic way to build the MYP4 class' confidence in making paper patterns and turning them into a product based on someone else's design. 
To begin with, the MYP4 Class analysed the drawings and met with their clients to establish a friendly relationship and built a client profile that included their name, age, nationality, interests, favourite film, favourite colours, what makes them happy, and their favourite animal. They proceeded to ask for the specifications for their monster such as the emotion they would like it to have, the colours they would like it to be, and their preference for size. This allowed the MYP4 students to take inspiration from all aspects of their client's interests to create the perfect monster for them.
While the MYP4 Class were busy creating their masterpieces, if they had any questions along the way and needed to know the preferences of their client, they would contact Miss Jess and she would give them feedback on her class's behalf. Receiving client feedback throughout the design and creation process is vital for a successful product.
When the MYP4 Students gave their product to the Year 1 class, there were smiley faces all around! One of the students said, ''Miss Hazel, look at me giving big cuddles to my monster!''. This not only gave the MYP4 students validation of their hard work, but also reinforced the concept of working with your client to make a successful end product, with one MYP4 student saying "It was worth the hard work to see my customers' reaction". Everyone at the secondary site had seen and been a proactive part of the monsters being created over the winter term, and were so pleased to see the progress made by the MYP4 students on this project, and hope they are proud of the end product they had made.