[Galaxy Unpacked 2023] Inspired by You, Created for You: Samsung Unveils the Latest Era of Galaxy Innovation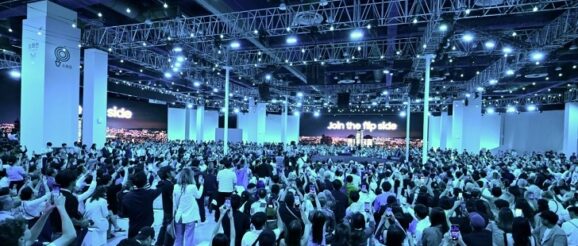 At this year's Galaxy Unpacked on July 26, Samsung revealed exciting new additions to the Galaxy family, including the Galaxy Z Flip5 and Z Fold5, the Galaxy Watch6 series and the Galaxy Tab S9 series. Taking place for the first time in Seoul, South Korea, the event captivated both domestic and international media and consumers worldwide. The city of Seoul is recognized as a global leader in progress, fusing tradition and modernity to serve as the ideal backdrop for Samsung's latest lineup.
"When technology seamlessly adapts to the world around us, it allows us to be open to new ideas, open to new ways of thinking, open to experiences we would otherwise never know," said TM Roh, President and Head of MX Business at Samsung Electronics, who kicked off the event with his keynote speech. "Open for a world of unlimited possibilities. That's exactly what Galaxy lets us do."
As top executives exhibited the latest products, packed crowds experienced the newest innovations and Samsung highlighted its new vision for sustainability, everyone came together to witness how joining the flip side could transform the lifestyles of millions.
Keep reading for more photos, highlights and updates from Galaxy Unpacked 2023 in Seoul, the heart of South Korea.
▲ At Galaxy Unpacked 2023, the audience gathered to see the latest Galaxy devices released for the first time in Seoul, South Korea.
▲ President TM Roh, President and Head of Samsung Electronics' MX Business, unveiled the latest iterations of the Galaxy Z series at Galaxy Unpacked 2023.
Galaxy Z Flip5: The Ultimate Tool for Self-Expression
The Galaxy Z Flip5 is the perfect accessory to capture how Galaxy users look and feel — complete with an innovative design and a variety of all-new customizable features. The most apparent change was the exterior design. Flex Window, the largest Cover Screen on a Galaxy Z Flip yet, takes the camera experience of a foldable phone to the next level. The audience took note of a video with American actress Sydney Sweeney showcasing how users can easily snap selfies or group photos at any angle, all thanks to the upgraded Flex Window.
▲ The Galaxy Z Flip5 delivers an epic camera experience made possible by an improved processor and Nightography, allowing users to take high-resolution selfies using the rear camera. South Korean singer Jang Won-young (left) and American actress Sydney Sweeney (right) pose for a selfie using the Galaxy Z Flip5.
▲ The Flex Window has also upgraded the camera experience for video recording. Users can capture smooth and stable vlogs with the Super Steady feature and automatically adjust the camera's field of view with Auto Framing.
Compact by Design: Customize Your Galaxy Z Flip5 Experience
The Galaxy Z Flip5 delivers more usability through its wider Cover Screen, all in a compact form that still fits in a pocket. What's more, users can put their personalities on display thanks to even more ways to customize their Flex Windows. Widgets allow Galaxy users to check the weather and stock market information at a glance or control media playback without ever opening their smartphones.
▲ Stephanie Choi, EVP & Head of Marketing, MX Business at Samsung Electronics, introduced the Galaxy Z Flip5, taking the mobile experience to the next level. With the Galaxy Flip5, users can capture hands-free selfies from creative angles on a larger Cover Screen and more customization options.
▲ With the Galaxy Z Flip5, users can enjoy a wider view of their Flex Windows without ever opening their phones. The Flex Window gives users access to their IDs, QR codes, boarding passes and more via Samsung Wallet.
Crafting the Future: Foldable Hinge Technology Redefined
Building on a legacy of innovative design and craftsmanship, the Galaxy Z Flip5 and Galaxy Z Fold5 are lighter, more compact and more durable than ever before. The all-new Flex Hinge can be adjusted with extreme precision, reducing the Fold's gap to almost nothing while still ensuring the strength and durability to support Flex Mode. This flexible form factor will pave the way for the next phase in the evolution of foldables.
▲ Nils Dahl, Manager of Product and Strategy Planning at Samsung Electronics America, revealed the improved hinges of the Galaxy Z Flip5 and Z Fold5.
Galaxy Z Fold5: The Ultimate Productivity Powerhouse
The new Galaxy Z Fold5 is a productivity power player and a multitasking secret weapon, complete with the largest screen out of the entire Galaxy Z series to date. In today's world, the boundaries between work and personal life are blurred, and consumers need a flexible device that supports both work and play. Providing PC-like power in users' pockets, the Galaxy Z Fold5 ensures that users can enjoy the ultimate mobile experience anytime, anywhere.
▲ SUGA from BTS made a cameo at Galaxy Unpacked 2023.
At this year's Unpacked event, global icon SUGA from BTS made a surprise appearance to demonstrate how the unique foldable experience of the Galaxy Z Fold5 could be used to optimize users' daily lives.
▲ The Galaxy Z Fold5 delivers new features such as the two-handed drag and drop that takes full advantage of the large device display. Up to four recent apps can be supported on the Taskbar, making multitasking and navigating between apps and tasks a breeze.
▲ Galaxy users can take notes, sketch designs or sign documents and email them with the new slimmer and more compact S Pen Fold Edition and the Slim S Pen Case.
Galaxy Watch6 Series: Build Healthy Habits, Day and Night
Samsung introduced the Galaxy Watch6 series to help users not only track but also personalize and enhance their sleep. While sleep monitoring technology has been previously offered through existing wearable devices, the Galaxy Watch6 series provides even more in-depth and comprehensive sleep-related health information in continued cooperation with professionals in the field, including experts from the Samsung Medical Center.
▲ The Galaxy Watch6 and Galaxy Watch6 Classic's advanced sleep coaching program helps users develop healthy sleep habits. In addition, the newly updated watch face allows users to check their sleep score and notifications at a glance. Hon Pak, Vice President and Head of Digital Health Team, MX Business at Samsung Electronics, introduced the bioactive sensor installed in the Galaxy Watch6 series. The sensor allows users to monitor their ECG, blood pressure, body composition and heart rate at all times to form healthy habits and improve their quality of life. Furthermore, when used alongside the Samsung Health app, users can better understand their wellness.
Galaxy Tab S9 Series: Bridge the Gap From Inspiration to Creation
Samsung debuted the Galaxy Tab S9 series, redefining the premium tablet experience through its high-performance features and stunning display. As the first water- and dust-resistant tablet offered by Galaxy, users can follow their inspiration wherever it leads them.
▲ The Galaxy Tab S9 series provides a more premium tablet experience. Equipped with a dynamic AMOLED 2X display, it not only offers vivid colors with dynamic refresh rate of up to 120Hz but also has an IP68 rating, the highest level for water and dust resistance.
▲ The Galaxy Tab S9 series has added new apps to unleash users' creativity, including GoodNotes, Clip Studio Paint and LumaFusion.
▲ Equipped with the latest processor, Snapdragon® 8 Gen 2, the Galaxy Tab S9 series boasts powerful performance and uninterrupted high-quality graphics comparable to a gaming device.
Samsung's Journey Towards a Sustainable Future
In line with Samsung's commitment to a sustainable future, the entire Galaxy lineup introduced at Unpacked features eco-conscious materials across the entire production cycle, from internal components to external packaging. The Galaxy Z Flip5 and Z Fold5 use more recycled parts than the previous Galaxy Z series, demonstrating Samsung's commitment to reducing the environmental impact of its products.
▲ Samsung emphasized its efforts to create a sustainable future.
As Galaxy Unpacked 2023 drew to a close, TM Roh, President and Head of MX Business at Samsung Electronics, delivered his final remarks promising Samsung's continued commitment to sustainable innovation. Following the presentation, more than 2,000 spectators who had packed the venue made their way to the Experience Zone, eager to get hands-on with the latest Galaxy products.
Up Close With Galaxy: The Experience Zone in Seoul
At Galaxy Unpacked 2023, the Experience Zone was an interactive space displaying the latest Galaxy devices. The zone featured a photo area inspired by a "hanok," a traditional Korean house. Designed by Kyung-sun Chae, the art director of the South Korean TV series, Squid Game, the space celebrated Seoul, a city where tradition and modernity coexist.
▲ After the event, media representatives visited the Experience Zone, getting hands-on with the latest Galaxy devices, including the Galaxy Z series.
▲ Visitors eagerly photographed a variety of new Galaxy products at the Experience Zone.
▲ In the Experience Zone,  visitors explored the Seoul Street by Galaxy, illustrating both the modern and traditional sides of Seoul.
Galaxy Unpacked 2023 has set the stage for a new era of mobile technology where user-centric innovation takes the lead. Samsung looks forward to embracing these transformative advancements, anticipating a future that is more connected, efficient and enjoyable than ever before.
Stay tuned to Samsung Newsroom's complete coverage of Unpacked 2023 and the latest Galaxy innovations.
* Specifications may vary by market.
** All functionality, features, specifications and other product information provided in this document including, but not limited to, the benefits, design, pricing, components, performance, availability and capabilities of the product are subject to change without notice.