German DVB-I Pilot wins IBC Innovation Award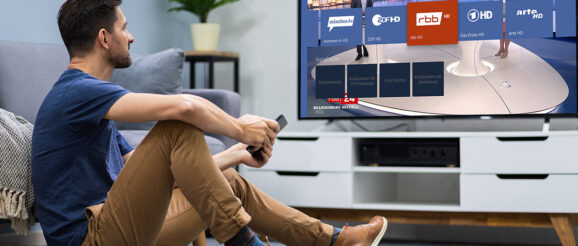 The winner of the IBC 2023 special award for innovation is the German DVB-I pilot, an initiative bringing together multiple stakeholders from the German media industry, including broadcasters, device manufacturers, software providers and research institutions.
Published as an open standard by ETSI, the specification service discovery and programme metadata for DVB-I provides an internet-centric mechanism to signal and discover television services, whether delivered over IP networks or traditional broadcast networks, and allows them to be presented in a unified manner. Any suitable receiver – from TV sets to personal consumer devices – can display service lists and electronic programme guides (EPGs) using information provided in XML format. Having a single data format that is compatible with all potential receiver types means reduced workflow costs and complexity, according to project partner DVB.
The first phase of the German DVB-I pilot, which ran from September 2022 to March 2023, aimed to develop a common understanding of the functionality of DVB-I and explore how it could serve the changing requirements of the German television market. The second phase is to be launched at IBC 2023 in September.
"This award provides well-deserved recognition to the stakeholders involved in the German DVB-I pilot," said DVB Chair Peter MacAvock. "The participation of representatives from across the full value chain including, crucially, both public and private broadcasters, has helped demonstrate that DVB-I could be the solution to many of the challenges facing the industry today. On behalf of everyone who has contributed to the development of the DVB-I specification, I offer my warmest congratulations to the project team."
Visitors to next month's IBC show in Amsterdam will have an opportunity to see the German DVB-I pilot in action. Demonstrations are planned for both the DVB booth (1.B73) and that of the EBU (10.D21). The ceremony for the IBC innovation awards will take place during the exhibition on September 17 at 18:00 CEST in the Premier Lounge.
The organisations involved in the project include ARD, bmt, Dolby Laboratories, DVB Project, EBU, Fraunhofer FOKUS, LG, Media Broadcast, MIT-xperts, ProSiebenSat.1 Media, OnScreen Publishing, rbb, RTL Deutschland, SES, Sofia Digital, Sony Corporation, TARA Systems, TP Vision, Vestel, WDR and ZDF.