Gowling WLG moving from historic BMO building to Hamilton's innovation hub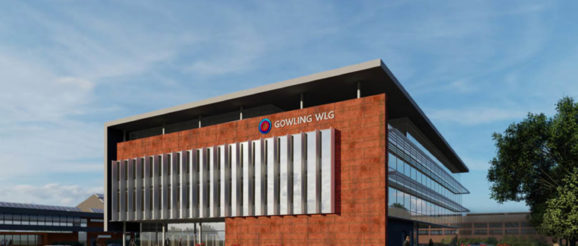 Gowling WLG moving from historic BMO building to Hamilton's innovation hub
After 14 years housed in the gorgeous historical building at 1 Main Street West in Hamilton, law firm Gowling WLG will be moving its operations to a modernized, purpose-built setting at McMaster Innovation Park (MIP); Hamilton's premier innovation hub.
The move comes at the end of Gowling WLG's lease of the prominent Main Street West building in central downtown Hamilton, which was originally built as a Bank of Montreal in 1902. Gowling is trading in their current office's historical charm for something decidedly more modernized.
The future of @MIP_Hamilton will include the new Gowling WLG Hamilton office moving to the park. Take a look at the design of the new building. @gowlingwlg_ca Hamilton Community Summit pic.twitter.com/GcLjXTjFt3
— Victoria Owen (@risehamilton_) January 23, 2020
In a construction project headed by Waterloo's The Cora Group intended to break ground sometime this spring, the $35 million new building at McMaster Innovation Park will be 90,000 square feet upon its eventual completion, housing Gowling as well as other tenants in a collaborative environment as they set their sights on the future and a mindfulness towards innovative development.
"At Gowling WLG, we want to unlock Hamilton's potential by acting as an economic accelerator and global connector," explains Gowling WLG.
"Our firm continues to play a growing role in the region's innovation ecosystem as the research, technology, and manufacturing sectors thrive at home and abroad."
Over 200 lawyers and staff at Gowling will be making the move to the new space at MIP when it is complete. Learn more about the project here.
Lead image courtesy of Gowling WLG