Greek European Digital Innovation Hubs: Natural Disaster Resilience Plan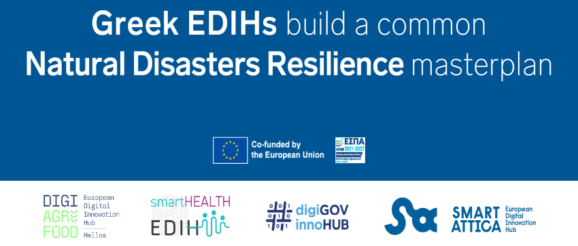 The Greek network of European Digital Innovation Hubs (EDIHs) successfully organized a workshop on the development of a natural disaster resilience plan in light of recent events in Thessaly, Evros, Evia, and other affected regions of the country.
The event occurred on Friday, 6 October, at the National Research Centre for Scientific Research "Demokritos." It was coordinated by Smart Attica EDIH, which initially aims for the digital transformation of Attica and, subsequently, the rest of Greece. The focus is on sectors such as energy and environment, supply chain and mobility, as well as culture and tourism. Distinguished speakers included Mr. Georgios Nounesis, Director and Chairman of the Board of Directors of NCSR "Demokritos", Mr. Evangelos Karkaletsis, Director of the Institute of Informatics & Telecommunications at NCSR Demokritos and coordinator of Smart Attica EDIH, and Mr. Yannis Kotsis-Giannarakis, representative of the Greek EDIHs and coordinator of the GR digiGOV-innoHUB digital governance hub.
Furthermore, the workshop saw participation from representatives of the EDIH network, including Mr Dimitris Filippidis from the coordination team of smartHEALTH EDIH, which focuses on Smart Health and innovative e-Health services; Mr Pericles Terlixidis, coordinator of Smart Attica EDIH and the event; Ms Maria Pournari, coordinator of Health Hub EDIH, aiming to revolutionize the Health and Pharmaceutical Industry with AI services based in Thessaly; and Mr Nikolaos Ploskas and Mr Fotios Tsampouris, representing the SYNERGiNN EDIH active in Western Macedonia, specializing in energy and environment.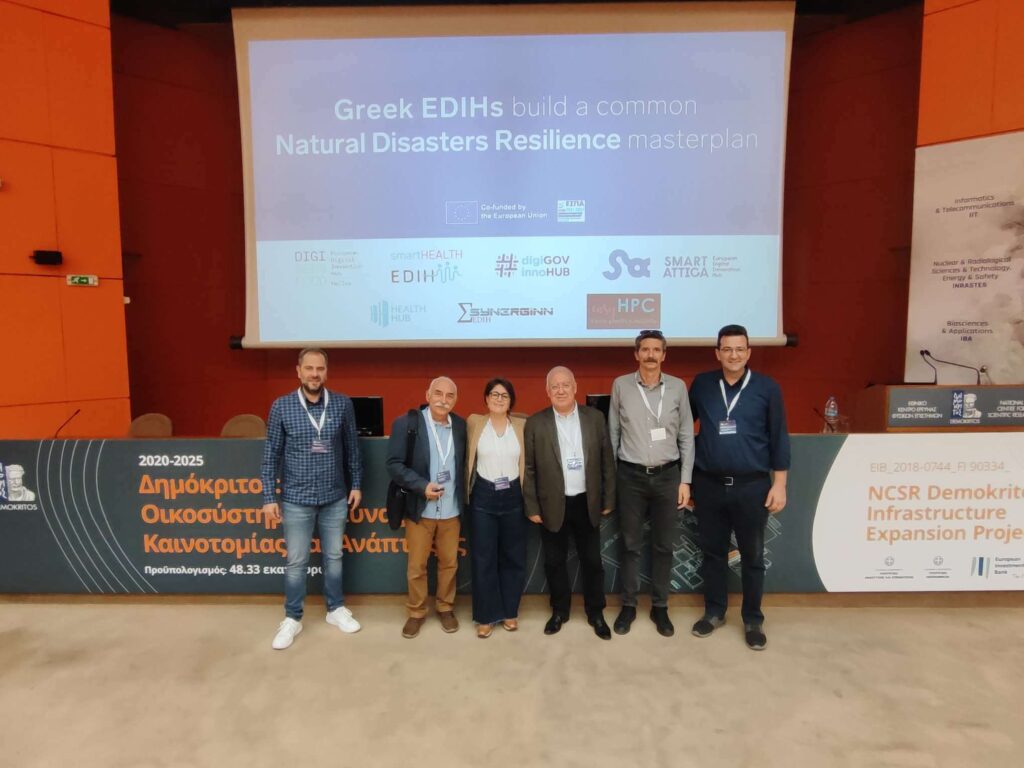 The event's objective was to unite all partners of the EDIH consortia and the hubs' associated organizations, which include businesses and institutions nationwide. They aimed to discuss potential actions and engage in comprehensive discussions on issues related to the prevention, management, and response to natural disasters within the country. A digital collaboration platform was established where 40 partner institutions and companies initially shared their ideas and services. These contributions were subsequently grouped and categorized. The participants then identified the current and potential needs, with insights from representatives of Attica, Thessaly, and Central Greece regions and members of the Hellenic Rescue Team of Attica, who enriched the discussion with their valuable input.
The European Digital Innovation Hubs have received approval from the European Commission and are part of the European Digital Innovation Hubs (EDIHs) innovation network. They are co-funded by the Digital Europe 2021-2027 program.