How A Ugandan Startup Yunga, Emerged Winner at the Africa Prize for Engineering Innovation. – CEO East Africa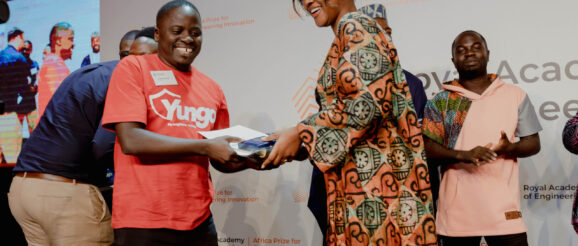 On 6th July 2023, Ugandan security-tech startup, Yunga, was announced the winner of the prestigious Africa Prize for Engineering Innovation organised by the UK's Royal Academy of Engineering walking away with £25,000 (about shs 118 million). Yunga is a local digital security network that connects neighbours to each other and police within a 20km radius via a physical device, smartphone app or SMS service, providing security at a low cost. Yunga became the second Ugandan startup to scoop the award after Matibabu's triumph in 2018. 
"The journey to winning this prize started in 2022 around September. This was the first round of applications and thousands of African startups wanted a shot at the £25,000." Anatoli Kirigwajjo the co-founder and CEO tells CEO East Africa in an exclusive interview. "By November, the list had been narrowed down to 16 startups of which we were among. But the journey was just getting started."
To be selected in the top four finalists, the sixteen startups went to London for intensive two weeks of training by the Royal Academy of Engineering. Each startup was paired with various mentors and alumni of the Academy. "When the two weeks of training are done, each startup sets goals and targets that they have to meet. After about eight months, we go to the next round of applications. This phase is about how well a startup has met its goals and targets that it set post-training. The application form at this stage is way longer, and there is a lot of due diligence to prove that the startup has achieved the targets it says it has"
In early June, Yunga was announced as one of the finalists alongside South Africa's Flexigyn, a battery-powered, portable handheld device that enables gynaecologists to diagnose and treat women's uterine problems without anaesthetic or expensive equipment. Nigeria's Revive Kit, a modular e-mobility service used to convert gas-powered three-wheeled motorbikes to run on rechargeable lithium-ion batteries and Tanzania's WAGA PAWA Pack, a rechargeable power source created from recycled laptop lithium-ion batteries, provides a reliable and affordable electricity source. Each of the four finalists was assured of at least £10,000 (about shs 47 million). 
Anatoli left Uganda for the awards ceremony in Ghana on 1st July, 2023 which was almost a week before the ceremony. In Ghana, there were still finishing touches involved. "We had a powerful session in Ghana that was wrapping up the whole training. It was about negotiation and we had to role-play as an investor or founder to see who would get a better deal. It was important for any founder to get a better deal in those negotiations. Or if you were given the role of an investor, you should get a better deal. They would score us based on who managed to pull in a better deal. It was about expressing one's negotiation tactics that we had learnt."
On 6th July, Yunga was announced the winner at the awards ceremony. The win didn't surprise Anatoli. He was confident of the victory. "We wowed everyone with our pitch. The audience liked that the startup was personal to me. I was solving a problem I had faced, and so many people could relate. And importantly, we had more traction than each one of the other three finalists. We had proven that our solution could be used by at least 1,000 people already."
He adds, "We also clearly articulated what we would use the money for. We showed that with the prize money, we would get to 3,000 households and then we would be cash flow positive. The other finalists struggled a little bit with this."
Anatoli, however, also emphasises the importance of one of his co-founders, Fredrick Kasoma who made the trip to Ghana sponsored by Yunga themselves and Nasser Kaweesa who stayed back in Kampala. Frederick had gone to Ghana to help cover a meeting, but it ended up being a short one that they held in the hotel lobby. So he now had enough time to help Anatoli prepare for his pitch. 
"Fredrick spent a lot of time in my room and I would pitch to him a lot. We ended up refining the pitch over and over again. It helped that he was someone that understood my business to the dot. Other finalists didn't have a chance to pitch to a familiar face, and the other founders were mostly alone. I had Fredrick help out almost full-time while in Ghana. We also had a stall at the event, and he was exhibiting while I refined the pitch. The other finalists had to juggle both. The return on investment on that air ticket was great for Yunga. On the other hand, our third co-founder Nasser was always on calls with us throughout and did a big job asking people online to vote for us. He also kept the ship afloat in Kampala while we were away. It was a true team effort".
Anatoli looks forward to the future and using the £25,000 to grow his startup. "We want to acquire 3,000 additional customers for Yunga in the next 18-24 months. Currently, our sales team is overwhelmed. They have done a tremendous job, but it is time we beef them up with more resources. We also hope this is a catalyst for us to raise bigger funding rounds in the future."
Since its inception, the Africa Prize for Engineering Innovation has established itself as the continent's premier award for advancing engineering ingenuity. Spearheaded by the prestigious Royal Academy of Engineering, this initiative fosters innovative development and bolsters the growth prospects of engineering entrepreneurs across Africa. The award's mission extends to promoting engineering's wide-reaching impact on societal progress and inspiring new problem-solvers to use technology as a force for good.
Over the span of nearly a decade, the Africa Prize has earned a reputation for being the catalyst for powerful and game-changing innovation. The program's rich history is a testament to its successful endeavour of identifying and nurturing exceptional engineering minds on the African continent. Since 2014, this pioneering initiative has acted as a strong support system for over 130 entrepreneurs, spread across 20 different African nations. Through a rigorous business training regimen and enduring project support offered via the exclusive Africa Prize alumni network, it has laid the groundwork for numerous engineering success stories.
Among the many triumphs of the Africa Prize alumni, a notable achievement is that beyond 70% of their engineering and technology enterprises are currently revenue-generating entities. This alumni community, the brightest and the best in their fields, have collectively raised a staggering total of more than $ 14 million through grants and equity. Not just content with fuelling economic growth, these entrepreneurs are bringing about social change by creating career opportunities. So far, they have created upwards of 3,600 jobs, of which almost half have been acquired by women. The Africa Prize for Engineering Innovation, thus, stands as a beacon of progress, ceaselessly illuminating Africa's path to a technologically advanced and socially equitable future.