How the Australian String Quartet is flying high on innovation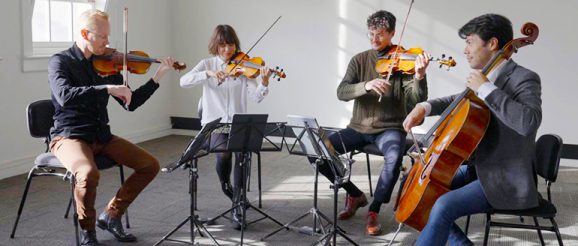 When you think of classical music, tradition springs to mind. But get to know the Australian String Quartet and you might think differently. They certainly do.
"Our work seeks to break the stereotypes around string quartet music and to take music to exciting and intimate places where people can experience music-making up close," explains Australian String Quartet (ASQ) CEO Angelina Zucco. "From woolsheds to gin distilleries and museums and galleries, and occasionally the odd pub, we are taking the music to people around Australia."
These small-scale concerts are winning hearts across the country and they're exactly the kind of engagement that lured ASQ Artistic Director and violinist Dale Barltrop back from a long stint in North America six years ago.
"While we really enjoy playing in the big concert halls, we find it important to get into smaller spaces — more casual, cosy spaces, where we can break down the barrier between the performer and the audience and enjoy a more intimate approach to our performing," he says.
Watch ASQ on Kochie's Business Builders:
Story continues after video.
"We're flying almost every week"
From their home at the University of Adelaide to concert halls across the country and around the world, by necessity the ASQ are big travellers. "Sometimes when people ask me where I live, I joke to them that I live in the Qantas Lounge because we spend so much time in the air," says Barltrop. "We're flying almost every week, sometimes multiple times a week, and it is just so nice to be able to come to the airport and know that I feel like I'm at home."
The ASQ is a Qantas Business Rewards member, which means they get access to discounts on both flights and membership to Barltrop's beloved Qantas Club. Members also earn Qantas Points on eligible flights, as well as everyday business expenses with more than 50 partners across things like fuel, travel, credit cards and office supplies. The points the business earns can be used for flights, upgrades, car hire, hotels, wine, gift cards or items from the Qantas Rewards Store.
"It's terrific being a Qantas Business Rewards member because in addition to earning points for ourselves, we earn points for our company," explains Barltrop. "Then the company can use those points to book flights, hotel rooms or hire cars. For a small non-profit arts organisation like us, it's an incredible privilege and benefit to have that."
Another benefit of the program is that you can earn 250 bonus Qantas Points per booking, on top of the points and Status Credits you already earn as a Frequent Flyer. It's especially useful if you're flying for work often and want to make the most of Qantas' extensive international network, as the ASQ do.
In any given year, Barltrop estimates that the ASQ take more than 300 flights as they share their music across Australia and the world. The Quartet is currently on tour across Australia with the Sydney Dance Company for Rafael Bonachela's Impermanence and heads to London later in the year to perform a series of concerts at the ANAM Quartetthaus presented by the Royal Albert Hall.
Inspiring a new generation
In recent years, ASQ has embraced online streaming so they can share their work and love of music with even more people than they can reach live.
"One of the ways that we are innovating the art form here at the Australian String Quartet is to explore the world of digital," says Zucco. "A perfect example of this is our new On Demand platform which provides access to wonderful performances, musical insights and interviews by the Quartet. Beyond that, we're constantly exploring how can we push the art form further for the next generation."
If the next generation is anything like ASQ Artistic Director and cellist Michael Dahlenburg, the future is in safe hands. He was born in 1985, the same year the ASQ was founded, and he first saw the ensemble perform when he was eight years old.
"I remember them performing at my school and I said to my parents, 'That is what I want to do one day'," says Dahlenburg. "To be here 30-odd years later continuing the legacy of the ASQ and doing the job that I saw when I was a child, makes me realise that I'm one of the luckiest people working today."
Music for everyone
The ASQ's commitment to making music accessible for as many people as possible builds bridges to connect people through music. Their unconventional performances open people's minds to the power of music and demonstrate exciting career pathways for young people in the Australian arts sector.
To help inspire the next generation, they're currently experimenting with virtual reality, emerging technologies and installations that can be exhibited in galleries globally. But no matter how innovative their online strategy, it's live music in front of a variety of audiences that really fuels the soul of the ASQ.
"The major highlight for us at the ASQ this year have been a return to travel," confirms Zucco. "After a few years of restrictions, it's just been so great to get back on the road and to have the opportunity to perform in all corners of the country."
For more about the Australian String Quartet visit asq.com.au.
Want more flight discounts, upgrades and benefits for your business? Join Qantas Business Rewards for free this July to help your business fly.
This article is brought to you by Kochie's Business Builders in partnership with Qantas Business Rewards.