Hunger and hope: Africans tell of desperation and innovation as climate summit meets | Global development | The Guardian
African heads of state, ministers, leaders and campaigners are meeting this week in Nairobi for the first climate summit held on the continent. An estimated 30,000 delegates are in the Kenyan capital to debate and lobby governments to keep their commitments to support the people suffering the worst consequences of the climate crisis while contributing the least to its causes.
Africa has been hard hit by climate-related extreme weather, fuelling a severe hunger crisis affecting millions. We speak to people about living on the frontline of the crisis in three African countries, and what can be done to mitigate some of the problems.
'Only God can help us ': a father laments rising food prices
Sitting pensively inside the makeshift shed that serves as his grocery shop, Florencio Okonyo explains how, for close to three decades, he has bought fresh vegetables and other household items at discounted prices before selling them for a slim profit to residents of Lindi village, part of Nairobi's sprawling Kibera slum.
When business was booming, Okonyo, 69, would take home "one or two thousand Kenyan shillings" (£5-£10), which was enough to feed, clothe and educate his four children.
Not any more. Dwindling supplies of fresh produce from Toi, the main market in Kibera, means he is unable to restock his stall. Today, only a few oranges, each selling for a paltry 5 shillings, are available; the proceeds are too meagre to feed the family.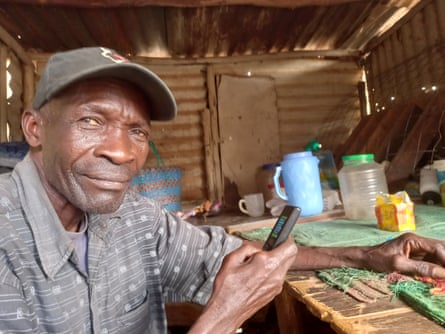 High food prices have forced Okonyo to drop rice and milk from the family menu. Half a kilogram (17oz) of rice and 500ml (a pint) of milk sell for 60 shillings each.
"We cannot afford three meals a day," says Okonyo, pointing to a plastic jug of tea that serves as his lunch. "The price of everything has gone up. I just make enough to buy a 2kg packet of maize flour. We even stopped eating bread for breakfast, opting instead for mandazi [cheap fried bread made in the slum]." In Nairobi, a loaf of bread sells for 65 shillings while mandazi sells for 5 shillings a piece.
Between March and July, residents largely drawn from Nairobi's "informal settlements", as the slums are known, took to the streets to protest about the high cost of living. Okonyo feels disillusioned that nothing came out of those protests. "People only transferred their problems from the house to the streets," he says.
"We hear the government and opposition leaders have agreed to talk, but we are told the rising cost of food is not among the items on the table. Ni Mungu tu [only God can help us now]," he says.
'For a woman, this is economic liberation': climate-smart farming
When Maria Mwiti moved to Mutunyi village, near Isiolo, 20 years ago, she wanted to succeed as a vegetable farmer. But Isiolo is a largely arid region in northern Kenya where 80% of land is "non-arable and used for grazing", according to a climate-risk profile by Kenya's agriculture ministry.
"It was all bush and dry," she says. "Wild animals roamed the area, making farming difficult."
Undeterred, Mwiti tried planting maize but harvested nothing as elephants, zebras and warthogs from nearby wildlife conservancies ate her crop before it could mature. "We could not get anything to eat. We fought off the elephants day and night. We were risking our lives," she says.
Ten years ago, she fenced off her parcel of land to keep the animals away, then planted tomatoes on a 2,000 sq metre (half-acre) plot of land, using rainwater collected upstream and brought to her farm through gravity. But water levels were drastically reduced due to the climate-induced drought that has devastated the Horn of Africa for the last four years.
"We were advised by our local community project manager to use drip irrigation rather than fill trenches within the garden with water, which was in short supply. Drip irrigation means you only water the specific seedling with regulated amounts. A changing climate has forced us to change our farming methods," says Mwiti.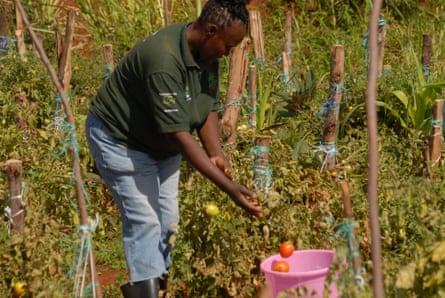 She has been attending farming seminars in the agricultural heartland of central Kenya to learn about best farming practices, including the right use of pesticides. The nearby Lewa wildlife conservancy helped her analyse her soil to determine the best tomato variety to plant.
"I resorted to planting a fast-growing hybrid tomato that yields more. I used to harvest four crates twice a week but have since doubled the amount, earning 4,000 shillings a crate, up from 1,500. I can earn 300,000 shillings [£1,600] in a good season," says Mwiti.
She and her family can now buy food from the proceeds of tomato farming. She also has 11 cows that produce up to 60 litres of milk a day. She still plants maize, but for use as silage to feed the cows.
"Without the climate-smart agriculture, my family would still be food insecure," she says. "I would keep on asking for handouts from my husband.
"I used to be hired, but now I can hire five women in a day to help me on the small farm," she adds. "For a woman, this is economic liberation."
Peter Muiruri
'We share the little we have': scratching a living from the land
Josephine Nantongo's home is a monument to survival. On her tiny plot in Kabaganda, a suburb of Kampala, she tries to rear goats, rabbits and chickens and grows bananas and vegetables. It is the only way she can survive in the face of rising food prices in the Ugandan capital.
"I could have given you entula [the Thai round eggplant also known as "garden eggs"] to take home but the rains were delayed, and they all died out," she says apologetically as she uses a stick to poke avocados from a tree before sitting down to dinner with her family. Dinner is silver fish, also known as mukene, and cassava.
"Today is a good day," she says. "Sometimes, when my business has not worked out, we simply take porridge and go to bed."
More than four months of harsh sun has made her vegetable plot dry up. Her chicken died of disease and, two months ago, thieves broke in and stole her goats.
Nantongo goes from house to house selling clothes. Every day, it becomes more difficult to knock at people's doors. "Nobody has money any more. Even the people I could have sold to are struggling. We used to buy 12 pieces of matoke [plantain-like green bananas] at 1,000 [Ugandan] shillings [21p] but now we only get eight for the same amount," she says.
"Just a few months ago, a kilogram of posho [maize flour] was at 2,800 shillings. Now it is nearly double that."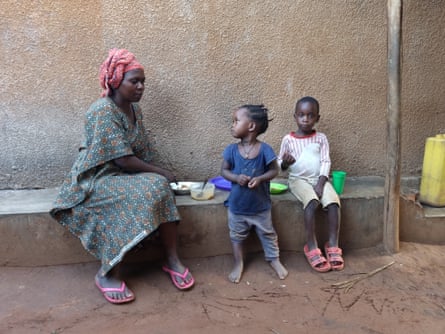 The UN World Food Programme's monthly market monitor for Uganda indicates that, for major food items such as maize flour, prices are far higher than at the same time last year. For instance, the average price for beans in July is 45% greater than July 2022.
"Sometimes the neighbours have nothing to eat, and we must share the little we have," says Nantongo, as she dips a piece of cassava into silver-fish stew and gives it to a child who has wandered into the house with her two-year-old daughter.
If a neighbour has a good harvest of potatoes, she will bring it home and share with everyone within the fenced compound. If a relative from the village visits and brings fruit, it would be unjust to eat the fruit alone, knowing your neighbour might be hungry, she says.
Nalongo Gloria, who owns the nearby grocery shop, understands the predicament of her neighbours well. "When everything fails, you go to Nalongo and get some food on credit," Nantongo says. "Then you pray to God that you find the money to pay for it."
Sign up to Global Dispatch
Get a different world view with a roundup of the best news, features and pictures, curated by our global development team
after newsletter promotion
'The sweet potatoes survived and so did we': one school's story
The monumental task of feeding nearly 1,500 students in an area that experiences long dry seasons and then floods, when the rains finally come, is what Lokiro Dominique faces every day. She is the headteacher of Jubilee community secondary school in Karenga in north-eastern Uganda's Karamoja region, which has for decades registered high levels of poverty and food insecurity.
Last year, Dominique received a lifeline: the school received a grant from the Novo Nordisk Foundation and World Food Programme to expand the small garden where it grew orange-fleshed sweet potatoes into a plot big enough to feed both the school and wider community.
"Orange-fleshed sweet potatoes were an easy option," says Dominique. "They are nutritious, drought-resistant and take only three months to mature.
"We knew that everyone would be able to grow some at home, rather than faraway gardens, and the plants would be safe from wild animals. These potatoes do not need a lot of land."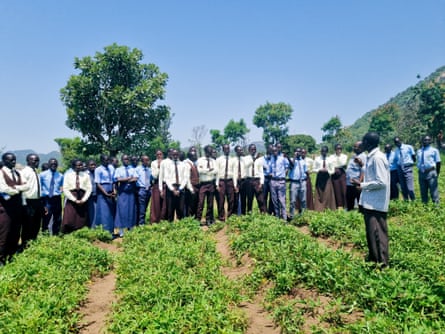 The potatoes, fortified with vitamin A, which boosts immunity and improves vision, are now grown on more than 3 hectares (8 acres) of land. The school recently built an irrigation system to ensure they can harvest all year.
Students plant and tend the potatoes, and operate the irrigation system themselves. Another 3 hectares of school land is used to grow potatoes they sell to the community, and a smaller plot is used as a nursery for replanting potato vines.
When there is plenty of rain, usually in March and April, the school can harvest 10 bags of potatoes a day – enough to feed the entire school and leave a surplus. School staff boil the fresh potatoes and serve them with beans, and use the boiled potato leaves as a green vegetable. Surplus potatoes are dried in the sun and stored for the dry months when the harvest is leaner.
"There was a time when there was no rain and no food for months, but the sweet potatoes survived and so did we," says Dominique.
"Our focus is now on teaching our children how to grow these potatoes because we know that at home there is [sometimes] no food. It is important that children learn resilient methods of farming."
Patience Akumu
SOUTH AFRICA
Laid off at work: 'Now it's bread for breakfast, lunch and dinner'
It's 10am, and Christabell Mhurushomana, 40, pours herself a glass of Mazoe orange cordial, then sits on the couch in her apartment in Tembisa township, just outside Johannesburg. The loaf of bread on the table in front of her could be her only meal today if she does not land a house-cleaning job.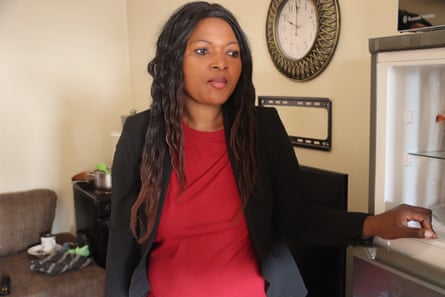 Before June 2022, Mhurushomana was a manager at a local chain store and could afford any food she wanted. She was laid off when the company downsized and now survives on menial household jobs in Midrand, a suburb of the city.
"I can no longer afford to buy decent foods like meat – the best that I can do for protein is eggs," says Mhurushomana, a widow with two children. "Even the bread I now eat costs just 6 rand (25p) and it must be my breakfast, lunch and dinner for two days unless I get money to buy mealie meal [ground maize] and eggs or vegetables," she says.
On a good day, she makes just 350 rand, but such good days are rare. With a kilogram of beef now costing at least 90 rand (up from about 50 rand a year ago), Mhurushomana makes do with whatever she can afford each day.
And when it comes to work, she must compete with close to 100 other women who are in a similar position and going after the same jobs.
'We could beat climate change': the rise of regenerative farming
On his farm, Danie Bester talks with passion about the techniques that have doubled his yields while slashing costs. He took up "regenerative" farming on Rietbult Estates farm, about 60 miles from Johannesburg, a decade ago and believes it could be the answer to the climate crisis for farmers.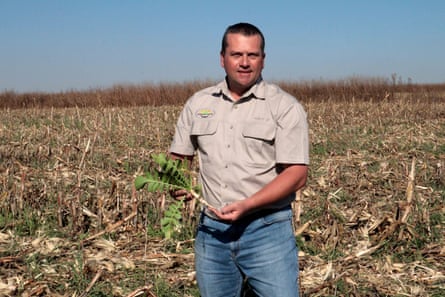 "Education [and] improved uptake of regenerative farming could beat climate change," says Bester, from Mpumalanga province in eastern South Africa.
Regenerative farming is about preserving the land naturally by keeping soil covered and disturbed as little as possible, replacing artificial fertilisers with manure and animal urine, and diversifying crops.
Since making the transition in 2012, Bester says his maize, soya bean and sunflower yields have nearly doubled, while the costs of farming inputs have drastically fallen.
South Africa, like many other African countries that rely heavily on agriculture, had its most brutal drought in three decades in 2014 and 2015. With temperatures continuing to rise and rainfall patterns shifting due to the climate crisis, Bester thinks it is imperative to educate farmers and encourage more of them to shift to this new method.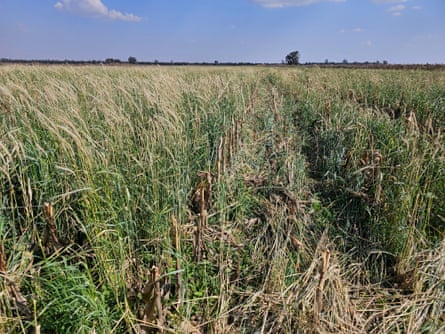 "With regenerative farming, you get a more productive soil because it retains more moisture and enhances its ability to feed the crops. There is exponential reduction of inputs because the soil starts to provide better fertility on its own. For the last decade, my maize yields have grown from 4.7 tonnes to 11 tonnes per hectare," says Bester.
Other costs have also been reduced: Bester once used 450kg of fertiliser a year for his land but now needs only 280kg. "There are so many advantages, including immense moisture retention." This, he adds, is vital, "with big droughts increasingly likely every other year".
Silence Charumbira