IIT Kharagpur Secured the Chairman Award for Technical Innovation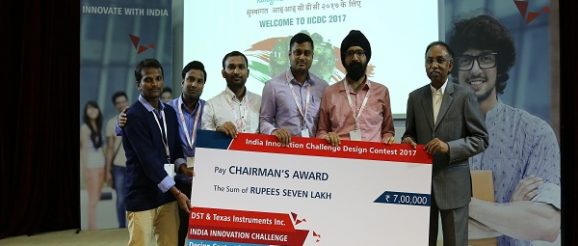 Fund of INR 3.5 crores to the winning start-up by Department of Science and Technology (DST)
Texas Instruments, India (TI) announced the top 10 winning teams for the India Innovation Challenge Design Contest 2017 (IICDC 2017). The winners qualify for an INR 3.5 crores start-up seed fund from the Department of Science and Technology (DST).
Indian Institute of Technology (IIT) Kharagpur secured the Chairman Award for technical innovation on ''Battery Health Management System with Integrated Charger''.
Sir M Visvesvaraya Institute of Technology Bangalore, won the first runners-up awardfor their innovation in ''Underwater and Airborne Unmanned Autonomous Vehicle''. The Bharatiya Vidya Bhavan's Sardar Patel Institute of Technology, Mumbai won the second runners-up awardon their innovation in ''Health Set''.
Top ten start-ups to be incubated by NSRCEL at IIM-B
They also earned an opportunity to be incubated at IIM Bangalore's innovation and entrepreneurship hub named as N S Raghavan Centre for Entrepreneurial Learning (NSRCEL).
The announcement was made during the grand finale held at IIM-B in the presence of Dr S. D. Shibulal, Co-founder of Infosys, Amarendra Sahu, CEO & Co-founder of NestAway Technologies Pvt. Ltd., Department of Science and Technology (Government of India) and Sanjay Srivastava, Director Marketing, University Program at Texas Instruments.
Altogether 30 teams made it to the finals after a selection process where more than 15,380 students from 965 colleges participated in the competition. The final 10 winners were chosen after many rounds of discussions and deliberations by a panel of eminent judges.
34 patents filed for innovations across multiple domains
This year the participants filed 34 patents across the domains like agriculture, health, vehicle safety, IOT, automation, security and eco-friendly appliances.
Besides, there are rewards at every step from certificates, cash prizes to mentoring from industry experts. TI's collaboration with IIM-B and DST had helped nurture young engineers through this contest. In a yearlong challenge, the participants were mentored by TI and IIM-B. Also,  the online platform MyGov promoted the active participation of the students in the contest by helping them during the entire process of registration.