Immigration and human behaviour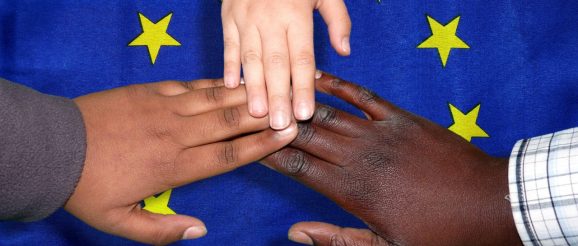 John Hoerner began his retailing career part-time at Hovland-Swanson specialty store in December 1959 where he subsequently held positions in selling, sales supervision, buying and merchandising.  John has a keen interest in politics and in 1966 helped manage a successful congressional campaign.
In September 1968, he was named General Merchandise Manager of the ladies' divisions at Woolf Brothers ladies and men's speciality store in Kansas City, Missouri.  Woolf Brothers operated stores in Kansas City, Tulsa, Wichita, Memphis and Dallas.
In January 1972, he joined Associated Dry Goods Corporation at the Hahne & Company division in New Jersey as Womenswear Merchandise Manager.  He left Hahne's in August 1973 to join a partnership in real estate development and venture capital based in McLean, Virginia.
He re-joined ADG in November 1974 as General Merchandise Manager of all apparel, accessories and shoes.  In 1976, he was named Senior Vice President and Director of Stores and in 1979, he became Senior Vice President and General Merchandise Manager.
In May 1981, Associated Dry Goods Corporation (ADG) named Hoerner President and Chief Executive Officer of their H & S Pogues department store division, headquartered in Cincinnati, Ohio.
In June 1982, Hoerner was named President and CEO of ADG's L.S. Ayres and Company division headquartered in Indianapolis, Indiana.  In November 1983, under John's leadership, ADG merged Pogues with Ayres, making an 18-store chain of department stores, which ranked in the top 30 in volume in the United States.
In August 1985, Hoerner was named Chairman and CEO of Ayres and in November 1985, ADG merged Ayres with Stewart Dry Goods Company, ADG division based in Louisville, Kentucky, making Ayres into a 25-store chain with annual turnover of US$450,000,000.  ADG featured the L S Ayres division in their 1985 Annual Report published in April 1986.
In October of 1986, the May Department Stores Company acquired ADG, and L. S. Ayres then became part of the world's largest department store retailer.
In April 1987, Hoerner was appointed Chairman of Debenhams, a then 67-store chain of department stores based in London.  In February 1988, he added the Chairmanship of Harvey Nichols to his responsibility.  Debenhams grew to over 100 stores and was a top-performing division of The Burton Group.
In November 1989, John became a member of the Executive Management Board of the Burton Group and Chief Executive, Stores, and in June 1991, he was appointed to the Board of the Burton Group.
In February 1992, Hoerner was named Chief Executive of The Burton Group Plc, one of the UK's leading retail companies including Debenhams and such well-known businesses as TopShop, Top Man, Dorothy Perkins, Principles, Burton Menswear, and Evans.
In January 1998, John organised the de-merger of Debenhams from the Burton Group into a separate company, creating substantial value for shareholders.   The Burton Group was at that time renamed Arcadia Group Plc, which by then included Burton Menswear, Dorothy Perkins, Evans, TopShop and Top Man, Principles, Hawkshead and Racing Green.  John Hoerner continued as Chief Executive of the newly named Arcadia Group and Arcadia subsequently acquired the Sears Brands Wallis, Warehouse, Miss Selfridge, and Outfit.  John retired as Chief Executive of Arcadia Group PLC in November 2000.
In February 2001 John started a consulting project for Tesco Stores PLC clothing and in July 2001, John joined Tesco as Chief Executive of UK Clothing.  In January of 2004, he added Tesco International Sourcing to his responsibilities.  In September 2005, John handed the UK Clothing Operation over to Terry Green and he then became Chief Executive of the Tesco Central European Clothing operation where he led development of a centralised clothing operation for Tesco in Poland, Czech Republic, Slovakia and Hungary until April 2008.  He then consulted part-time for Tesco in the UK and in their international divisions in China, Thailand, South Korea, India, Turkey, and Malaysia until September 2016 when he retired from Tesco.  John will now be available to consult for the Change Management Group where he is a shareholder and board member.
John's Book "Recipes for Retailers" in which he outlines recipes for retail success which he has learned over the years was published in China in both English and Chinese in July 2015 as a two-volume set.  The same book under the title "How to Sell – Recipes for Retail" was published in the UK in November 2015.
Information and commentary on the book is available at www.howtosell.expert .
Other information:
In Indianapolis, John was a member of the Board of Directors of the Indianapolis Chamber of Commerce and a member of the Board of Directors of the Indianapolis Symphony.  He was also a director of the Merchants National Corporation and Merchants National Bank (Now PNC Bank).
In the UK, Hoerner was a Trustee of the Crimestopper's Trust and a Trustee of Industry in Education and a director of Business for Sterling.  He served as Chairman of the British Fashion Council from July 1997 until July 2000.
In January 1998, he joined the board of BAA Plc, operator of major UK airports including Heathrow and Gatwick as Non-Executive Director and Chairman of the remuneration committee.  He retired from the BAA board in January of 2004. John was a member of "Business for Sterling" which was influential in keeping the UK out of the EURO. John was a member of the board of "Business for Britain" – an organisation of businesspeople who support the prime minister in his promise to change and improve the relationship of the UK with the European Community. This group became the basis for the successful Vote Leave campaign.
Hoerner has been a member of the Committee at the Dogs' Home Battersea since 1991 and in June of 1995 was elected Vice-Chairman and in June 2002 was elected as Chairman of the Trustees of The Battersea Dogs Home; he retired from the Battersea Dogs & Cats home in July of 2006.
He was a member of Groucho Club, The Traveller's Club, and other London Clubs.
In 2008 John received the Lifetime Achievement Award from the University of Nebraska only one such award is given each year.
John is married to the former Anna Lea Thomas of Kansas City.  They live on a farm in Gloucestershire with three horses and five rescue dogs from Battersea Dogs Home.  He has a son, Scott in Las Vegas who is retired from the US Marine Corps and now a firearms safety instructor.  His daughter, Joanne a personal counsellor specialising in children and families lives in Chicago.  She has two children.  Her husband is a former market trader, now a venture capitalist.
In addition to his interest in dogs and horses, Hoerner was a keen pilot having owned several aeroplanes.  He is a member of the UK Air Squadron.