Implementing innovation is a must for textile and apparel industry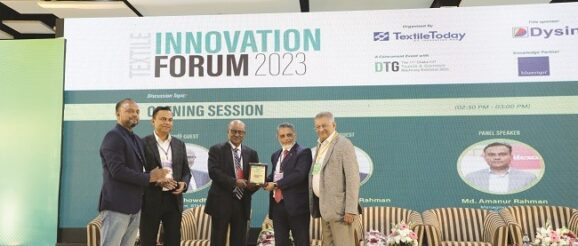 Textile Innovation Forum 2023 organized by Textile Today engaged the right people for particular issues present in the industry and tries to bring solutions to solve them by implementing innovation
 We have a capable industry, enough technical skilled people, machinery,  etc. However, we are not trying vigorously to implement innovation in the textile and apparel industry for better production, efficiency, and sustainability. For instance, we can see that Japan is way ahead in terms of innovation in all the technical sectors. We need to understand that innovation should consist of an innovative approach.
Abdul Matin Chowdhury, Ex-President BTMA, stated that while delivering his inaugural speech at Textile Innovation Forum 2023 on 16 February at International Convention City Bashundhara (ICCB) concurrently with Dhaka International Textile and Garment Machinery Exhibition 2023. The Textile Innovation Forum focused on some major issues and factors that are highly relevant to the recent interest of textile sector. Technology and process, Automation and 4IR, Implementing Sustainability – these topics were discussed in the seminar in three separate panel discussions just after the inaugural session.
After welcome remarks by Tareq Amin, Editor and Publisher, Textile Today — Chief Guest, Md. Abdul Matin Chowdhury, Former President of BTMA and Managing Director of New Asia Group; special guests Md. Shafiqur Rahman, President, the Institution of Textile Engineers and Technologists (ITET); Md. Amanur Rahman, Managing Director, Dysin Group sermonized their opening speeches.
Abdul Matin said, "We need to implement 'Kaizen' which is a concept in which small improvements are being done everyday in the industry. Textile engineers should now focus for the future and transform our industry in a sustainable way.
"One third value of textiles comes from Europe, one third value comes from China and rest of the world makes other portion. But Europe and their present lifestyle don't suit this textile business. So, we can see a shift of that one third portion of business to another nation. Recent study shows that the one third portion will move to China, Romania and Bulgaria etc. But due to recent political system in China, the shift has a higher possibility to move to Bangladesh in the upcoming 5 years," Abdul Matin further added.
Amanur Rahman said, "Present scenario in textile sector is as challenging as the beginning of this industrial era. To cope up with the present issues, we should take up innovation and sustainability as our main endeavors. We need to make sure that industry is ready to understand the impact on environment and future sustainability scenarios."
Amanur Rahman also addressed about the objectives of such innovative approach in the industrial revolution saying, "We need to focus on some areas regarding reduction in time, resource, water and labor cost. We should go towards the circular economy in which we are not only using natural resources for garments, but also recycling and reducing wastage."
Shafiqur Rahman, President, ITET said in his inauguration speech, "Covid-19 issue and Russian-Ukrain war created a great impact on our economy, especially on the textile industry. We have to focus on innovation for solving this problematic situation unitedly. Bangladesh is unique in the Asian subcontinent because we are willing to embrace new technology from around the world and implement it in our industry."
"We are trying to move towards automation in the future era. More than 70 lakh people work in the textile sector in Bangladesh and more than 3 crore people are indirectly associated with it. We need to implement sustainability on our sector for making their lives better overall. We already have more than half of green factories of the world alone in our country. I can proudly say that out of the top 10 green factories in the world, we have 8 enlisted officially. So I can surely expect that, our industry leaders are thinking about the betterment of the environment for the upcoming future ahead;" Shafiqur Rahman added.
Tareq Amin pointed out the goals and vision of the seminar saying that "We have designed textile Innovation Forum to interact between industry leaders, brands and experts to gain knowledge for creating impact on reducing challenges of upcoming sustainable future."
Engineer Shakhawat Abu Khair Mohammad, Managing Director, Robintex Group said in his opening session speech, "Where there is no challenge, there is no success. We know that there is a crisis situation going on, but we have to fight it together to overcome eventually. We want to make Bangladesh as the number one country for textile production- this is our challenge. Maybe we will achieve this milestone in less than 5 years with no doubt."