Incubation hub to boost innovation – The Reporter Lesotho | Fresh News, Daily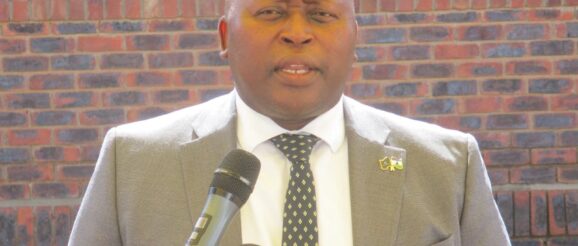 By Mantšali Phakoana
The new horticulture incubation and training centre in Mahobong will deliver innovative agricultural solutions and create dozens of local jobs with a focus on women and youth.
This was said by trade, industry, business development and tourism minister, Mokhethi Shelile on Wednesday when officially launching the hub, the first of its kind in Lesotho.
The facility is part of the Competitiveness and Financial Inclusion (CAFI) Project that was launched on April 3, 2023 in Maseru. It will serve as a central place for training and incubation of Basotho fruits and vegetable farmers from all 10 districts of Lesotho.
The US$52.5 million project is funded by the World Bank, and the Indian, Brazil and South Africa Fund for Poverty and Huger Alleviation (IBSA) with US$950,000, respectively.
The establishment of the fruit industry is expected to supply both domestic and international farms. It will also be used to introduce and facilitate pre-incubation of 100 commercially oriented farmers.
According to Shelile, the aim of the innovation hub was to increase access to business support services and financial products targeted at Micro-Small and Medium-sized Enterprises (MSMEs) and entrepreneurs.
He added that the selection criteria for this first phase will be beneficiary selection, training-soil science, tree husbandry, recordkeeping, logistics, marketing, and basic agriculture economics.
"Following the pre-incubation programme, the centre will continue to provide technical backstopping of about 15 full-scale climate smart horticulture farms established in the past five years.
"A competitive selection process for participating farmers has been completed, and 75 have been enrolled in a pre-incubation programme. In this phase, both incubates and incubator will sign a five-year memorandum of understanding.
"The CAFI is designed to revitalise and transform Lesotho's ailing textile industry to make it globally competitive," Shelile said.
Coordinated by the ministry of trade, the project provides a new home for interested horticulture farmers to come together and enhance commercial opportunities.
The minister said the centre will also serve as a catalyst for expansion to establish a fully fledged fruits industry in Lesotho in collaboration with key partners.
He added the project is also fully aligned with the tenure of the current administration within which it is respected to deliver tangible results.
At the same occasion, Lesotho National Farmers Union (LENAFU) programme manager, Khotso Lepheana noted that farmers are always willing to supply food commodities to the market.
However, he said they face difficulties probably due to poor quality of produce, low quantities, and erratic supply to the markets.
"For the majority of farmers, growing food is a calling and when a push to grow food comes, business considerations come last, or they don't feature at all. The farmers are heroes and deserve all forms of support.
"I believe the existence of the centre in Mahobong is a route to the transformation of Lesotho's agriculture into agri-business. We believe that the centre will bring a fruit food system where research is actively involved in generating technologies that are adaptable to the local environment.
"We ask for frequent training to impart technical and managerial skills that can enable farmers to expand production and participate in formal markers," he said.
For her part, South African High Commissioner to Lesotho, Constance Seoposengwe, hailed the fact that the project started out with the involvement of local communities who saw the benefits of pooling their resources to bring together deciduous fruit production.
"Climatic conditions, suitable soil and access to water are a major growth driver for the deciduous fruit industry in Lesotho, especially apples. These are conducive to the development of a strong deciduous fruit industry with massive employment creation potential.
"IBSA is pleased to continue its support to the government of Lesotho. We will also be looking at creating new synergies around moving the project forward and are already engaging with other potential partners in South Africa," she noted.
The project is administered by the United Nations Development Fund, LENAFU, the National University of Lesotho (NUL) and South Africa's Stellenbosch University.
Facebook Notice for EU!
You need to login to view and post FB Comments!