India Must Harness AI For Innovation, Growth: Mukesh Ambani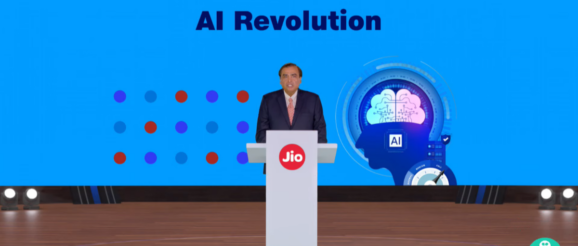 Reliance is committed to creating 2,000 megawatts (MW) of AI-ready computing capacity across both cloud and edge locations, Mukesh Ambani said
India has the data and the talent, but also needs AI-ready digital infrastructure that can handle artificial intelligence's immense computational demands, Ambani said
The Reliance Group chairman noted that the conglomerate has been busy augmenting its talent pool with capabilities in AI
Speaking at the 46th edition of the Reliance Annual General Meeting (AGM), group chairman Mukesh Ambani called for India to harness AI.
"A global AI revolution is reshaping the world around us. And sooner than we think, intelligent applications will redefine and revolutionise industries, economies and even our daily lives. To stay globally competitive, India must harness AI for innovation, growth and national prosperity," said Ambani.
The Reliance Group chairman also said that the conglomerate has been busy augmenting its talent pool with capabilities in AI, especially generative AI. Adding to the conversation, Ambani said Jio Platforms wants to lead the effort in developing India-specific AI models and solutions, "thereby delivering the benefit of AI to Indian citizens, governments and businesses alike".
"India has the data and the talent, but we also need AI-ready digital infrastructure that can handle artificial intelligence's immense computational demands," said Ambani, adding that Reliance stands committed to creating 2,000 megawatts (MW) of AI-ready computing capacity across both cloud and edge locations.
Ambani also added that Reliance Industries plans to shift most of its energy footprint in connectivity and digital services to green energy.
"Seven years ago, Jio promised broadband connectivity to everyone, everywhere. We have delivered. Today, we promise AI to everyone, everywhere and we shall deliver," the RIL chairman added.