India Writes the Playbook for Mobile Payments Innovation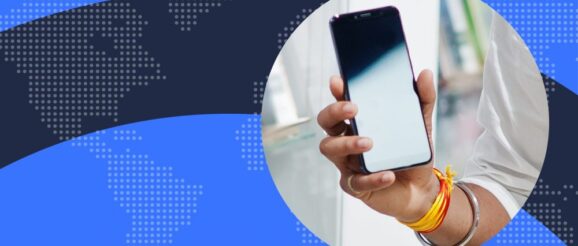 Payments innovation and digital-first shopping in India is a success story 15 years in the making. Its success can serve as a global playbook for creating an inclusive payments, commerce and financial services culture using mobile technology.
The demonetization of cash began in 2016 and accelerated with the launch of the Unified Payments Interface (UPI), India's central bank's real-time payments scheme. By the time the bank introduced UPI, many of India's citizens were already accustomed to using their mobile phones to pay bills, bank and pay merchants online and in-store using one of the many digital wallets available. PYMNTS' research finds that consumers used digital wallets to pay for 55% of retail purchases in India.
As one might expect, given India's trailblazing nature, local consumers use more digital shopping features than their counterparts in the United States or the United Kingdom. India's millennial, bridge millennial and Generation Z shoppers have been the country's early adopters of these digital-first shopping experiences.
The most important digital shopping feature for consumers in India is payment method availability. While 89% of merchants offer consumers payment method choice, 82% of consumers said they either used or were aware that the merchant they most recently purchased from offered it.
India is one of six countries studied in the third annual "2023 Global Digital Shopping Index," a PYMNTS and Cybersource collaboration. We surveyed 13,349 consumers and 3,124 businesses across Brazil, India, Mexico, the United Arab Emirates, the United Kingdom and the United States. This report on India tells the story of a country and its citizenry who have embraced mobile payments and shopping experiences and illustrates the impact of real-time, account-to-account payments on those experiences.
UPI is taking over India's retail market, with nearly half of all retail transactions occurring via this platform.
PYMNTS' research finds that 48% of consumers in India paid for their last retail purchase using UPI. UPI is more popular for digital retail purchases: 55% of India's consumers paid for their most recent digital retail purchase with UPI, while 37% did the same for in-store retail purchases. UPI is also the preferred payment method when purchasing retail products, as half of surveyed consumers identified UPI as their preference.
Cash once dominated India's economy, but digital payments are gaining traction.
Digital wallets have become popular in India: 55% of all Indian consumers used a digital wallet to complete their last retail purchase. When purchasing online, digital wallets are the undisputed leader, with 65% of shoppers in India using this payment method. While 35% of in-store shoppers paid for their last retail purchase using cash, 39% of consumers used a digital wallet.
Merchants in India must be aware of how the payments landscape is shifting because consumers in India are more likely than the average consumer in our six-country survey to identify being able to pay with their preferred method as the most important feature for merchants to provide.
India's merchants perform best among bridge millennials and for digital retail purchases.
Local merchants' expansive feature offerings — and shoppers' high awareness of these features — make India's shopping experience the second smoothest of any country we studied. India's shoppers find it much easier to shop and pay than the average shopper across all six countries in our study. Millennials and bridge millennials are key consumer groups that tend to be digital-first.
As India continues to move away from cash-based transactions toward UPI and digital wallet-based payments, this is a boon for merchants in India that have invested in digital shopping features. Download the report to learn more about how shoppers in India benefit from mobile and real-time payments innovation.
The post India Writes the Playbook for Mobile Payments Innovation first appeared on PYMNTS.com.