'Innovation and Creation' Behind Decade-Long Saudi Deal – e-racing365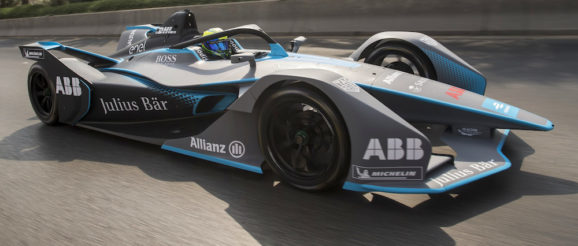 Photo: Formula E
One of the leading figures of deal to host a Formula E race in Saudi Arabia says the country has been waiting to commit to a long-term motorsport event.
The deal to bring the ABB FIA Formula E Championship to the country began with a meeting in a London hotel between series Founder and CEO Alejandro Agag and His Royal Highness Prince Khaled Bin Sultan Bin Abdullah Al Faisal, president of the Saudi Arabian Motor Federation.
Negotiations then continued through spring this year and were finally formalized on May 5 before the deal was announced later that month at the Berlin E-Prix.
E-racing365 understands that the initial deal on the table was for three years with an option for a further three but the Saudi delegation insisted on a decade-long commitment for the race.
"We have many messages to express as a country in the near future," Prince Khaled Bin Sultan told e-racing365.
"In fact we have been waiting for this moment for many years to develop a motorsport event in Saudi Arabia."
He also stated that a major attraction of the deal with Formula E was the way in which it fitted into the country's aim of promoting tourism, events and new technology and to downscale its reliance on finance from its traditional core business of oil exports.
This is part of the its Vision 2030 program which also includes investing in new energy technology to ensure that it is not solely reliant on oil in the future.
"We are proud now to be able to do this with a clever championship like Formula E because like us it wants to develop new technology, new ideas and a lot of positives around new engineering," he said.
"We are saying to new generations go out and see the new era away from the oil that we have been so dependent on. We want to inspire young people which is something that Formula E has been doing already.
"This is why we are investing for the next ten years with Formula E. We want to work with innovators and creators."
Agag: Global Messages of Saudi Race a "Good Fit"
Agag has described holding the first E-Prix of Formula E's second era in Saudi Arabia as "a moment of history" in world motorsport.
"I think without what they are doing on Vision 2030 the message would not be the same," he told e-racing365.
"There is change happening in the country and we feel that with what Formula E is doing is a really good fit for the messages going out to the world.
"We have a ten-year partnership, so it is huge and it is also a deal which is sees a moment of history as we start our second phase and really start to come of age as a championship."
He pointed to the decision by the Saudi authorities to streamline visa access in order for fans to more easily attend the country's first international single-seater race.
This was informed by a visit to the FIFA World Cup held in Russia, where the Saudi delegation saw the ease with which fans accessed multiple cities and provinces within the country.
"The lifting of the visa regulations so you get one with a ticket for the race is huge, a really progressive move," Agag told e-racing365.
"I think what they did in Russia was really clever and it was completely their decision to look at that and see how they could make it easier for people to come and see the races.
"It was a really smart move from them."