Innovation and X-ray Product Inspection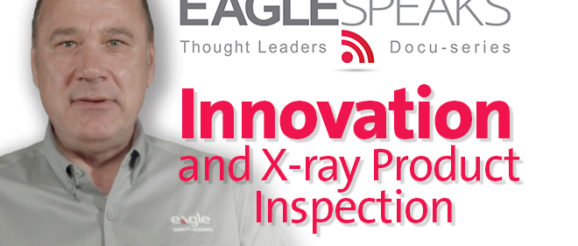 Eagle Speaks: Executive POV on Innovation and X-ray Product Inspection
Norbert Hartwig, Director R & D, Eagle Product Inspection
"If you always do what you always did, you will always get what you always got."
That quote from Albert Einstein – who had a way with words and, of course, an even better way with inventing, improving and innovating – rings true today across various marketplaces, products and methods of production. Such a focus on creating and enhancing technologies allow manufacturers to make high quality, safe products for consumers to enjoy.
In industries like food, beverage, pet food and pharmaceuticals, innovation in product inspection technology allows manufacturers to not just do what they've always done, as Einstein says, but always strive for better. Innovations in systems drive better efficiencies, throughput, safety, quality and a better overall total cost of ownership.
At Eagle, our team of experts around the world has built on their experience and range of solutions to continually advance technologies in inspection to find and reject contaminants and check for product quality and integrity, while also enabling greater traceability. One example of the ways in which innovation enhances inspection capability is the new Eagle EPX100, which will launch in the U.S. market at PACK EXPO International in Chicago, Oct. 14-17 in Booth S-1721. The EPX100 has been designed with a variety of innovative features for small and mid-sized manufacturers looking for an entry point in inspection and for larger companies that want to streamline their inspection capabilities. The low-energy EPX100 is run by intuitive software and system controls and provide superior contaminant detection and weight verification, in a design that is easy to operate and maintain.
To learn more about the innovations behind this next-generation inspection technology for packaged products, including easy belt removal, click here.
Innovation is a continual goal and emphasis of my own work for Eagle, where I regularly share my insights and knowledge with others. Starting this month, I'll talk about how innovation advances the entire marketplace as part of a new "Eagle Speaks" Docu-series, which includes videos, podcasts, e-books and other tools to help you build on innovation, know-how and performance. Get a sneak peek at the Docu-series through this introductory video  and learn more about "Eagle Speaks" here.
Many customers have used innovative inspection solutions in their cutting-edge facilities. Click here to see how one company deployed dual view x-ray systems across their range of products.
About Norbert Hartwig, Director R&D, Eagle Product Inspection
As head of Research and Development at Eagle Product Inspection, Norbert Hartwig is responsible for the development of innovative product inspection solutions which serve customer's needs around the world.
Norbert is a degreed engineer holding a Masters (Diplom-Ingenieur) in automatic control and electrical engineering from the Technical University of Darmstadt/Germany. He has over 25 years of experience focusing on high technical x-ray technologies. Prior to joining Eagle, he worked for Heimann Systems and Smiths Detection.