Innovation celebrated at monthly Chamber meeting – Salisbury Post | Salisbury Post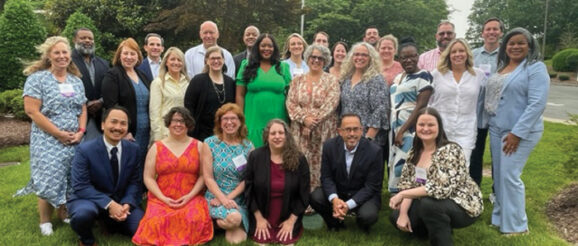 Published 12:01 am Friday, May 19, 2023
The 28 graduates of the 30th class of Leadership Rowan received their diplomas Thursday morning during the Rowan Chamber of Commerce monthly breakfast. Thirty years after Leadership Rowan was started for adults, an effort is underway to kick off a youth leadership program. Submitted photo
SALISBURY — Heather McDougall is the innovation guru in Raleigh, and on Thursday morning, she brought her experience and approach to the table at the monthly Power in Partnership breakfast of the Rowan County Chamber of Commerce.
Salisbury City Manager Jim Greene worked with McDougall during his eight years in Raleigh, and in his introduction, praised her work to revitalize innovation within the state's capital city as the director of the new Office of Strategy & Innovation. An award-winning social entrepreneur, McDougall has a doctorate and is described as "passionate about cultivating the potential of others and working collaboratively to create impact." Before taking the position in Raleigh, McDougall founded Leadership exCHANGE, an award-winning social enterprise operating leadership and social innovation academic programs in 10 countries.
Typically PIP speakers offer comments, and the attendees are then invited to ask questions, but McDougall engaged the more than 100 guests interactively.
"It's the 'why' of what we do that drives us," she said. "The 'what' and the 'how' are important, but it's the 'why' that drives you and connects you to others, and it is the 'why' that people buy into.
"I want to get you curious about the possibilities here," she continued, asking those in attendance to put their heads together at each table and choose four qualities they all consider essential to innovation in their jobs and lives.
Answers ran the gamut from "service" to "courage" to "support risk" and everything in between, and across the room, nods of agreement.
McDougall encouraged local governments to connect with businesses and organizations in partnerships on innovation and new projects or ideas. In addition, she suggested they follow Raleigh's example of offering micro grants as start-up seed money for to help get new ideas off the ground, either through the government or through businesses.
"People love solving problems," she said. "So invite them in to share their ideas and solutions, and make those connections so everyone is involved going forward in new ideas, new projects, new programs."
In addition to McDougall's presentation, the Leadership Rowan class celebrated graduation of 28 participants who completed all requirements of the program, which began 30 years ago.
"We are extremely proud of these individuals who have completed this prestigious nine-month long program. The Leadership Rowan program has a proud history of success with over 775 graduates from the past 30 years.  The Steering Committee has worked hard to make this year's anniversary class a valuable & meaningful experience," said Nick Means of F&M Bank and the steering committee chairman.
Leadership Rowan is a nine-month program, where participants meet once a month, and get an in-depth view of community issues, develop skills necessary to assume leadership roles, and are exposed to community involvement opportunities. Existing leaders and budding community volunteers are encouraged to apply for this elite program. Participants will study the qualities that make an effective leader, understand their own leadership styles, and develop new skills that will help them in the workplace.
According to Means, as the Chamber marks the 30th anniversary of the leadership program for adults, a youth leadership program will be launched this fall under a grant from the Robertson Foundation that will target high school students in Rowan County.