Innovation 'ecosystem' to be created in Aberdeen in £6.5m project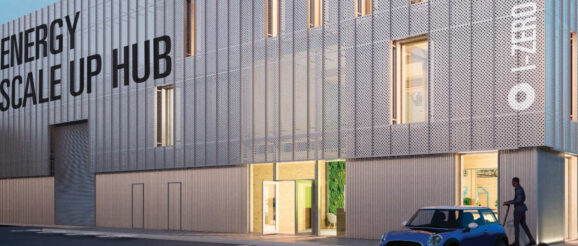 THE National Manufacturing Institute Scotland (NMIS) is to help deliver Scotland's first energy incubator start and scale-up hub in Aberdeen's Energy Transition Zone.
NMIS, which is operated by the University of Strathclyde, is collaborating with ETZ Ltd, a not-for-profit organisation tasked with spearheading north east Scotland's energy transition ambition.
The Net Zero Technology Centre (NZTC), alongside founding partners BP and Scottish Enterprise, aims to create a £6.5 million, 3,000 sqm facility to support supply chain expansion and deliver a 'cutting-edge' innovation ecosystem.
NMIS said that the facility will be a 'focal point' of the Innovation Campus, which is one of five specialist campuses being developed across Aberdeen's Energy Transition Zone which will become the largest energy transition complex in Scotland.
Located at Hareness Road in Altens Industrial Estate, the hub will comprise flexible industrial and collaboration space which will foster manufacturing, supply chain company building, technology research and development and commercialisation, alongside targeted business support to drive entrepreneurship, innovation, and growth. Subject to planning permission, its opening is expected to be in late 2024.
As a delivery partner for EISH, NMIS will provide early-stage and scaling companies involved in innovative green energy technology solutions with a package of advice and support to help them accelerate the journey to get products to market.
NMIS will establish an outreach centre as part of EISH to create a presence in the North East and occupy a significant workshop in the collaboration hub within the facility.
NZTC will locate TechX accelerator start-ups in the hub and provide them with support to grow their businesses and be part of an environment where they can engage and collaborate with peers, SMEs and larger companies all equally involved in accelerating the drive to net zero.
ETZ Ltd has received £1.25 million from BP and £2 million support from Scotland's national economic development agency, Scottish Enterprise, to begin construction of the hub and the remaining £3.25 million of the capital funding for the project will be supported through the Scottish Government's energy transition fund.
Professor Sir Jim McDonald, principal and vice-chancellor of the University of Strathclyde, said, "As a leading international technological University, Strathclyde is committed to applying its knowledge and research to the achievement of a net zero economy.
"As the operator of NMIS we are excited to be to working with industry partners on the Energy Incubator and Scale-Up Hub and bringing our expertise in research, innovation and skills development to the Energy Transition Zone."
Chris Courtney, CEO of the National Manufacturing Institute Scotland (NMIS), added, "We are delighted to enter into this partnership with NZTC, BP and Scottish Enterprise to help incubate and grow ambitious and innovative companies that will create new products and services to drive the energy transition.
"Through our extensive experience in collaborative innovation and strong entrepreneurial approach, we can help companies develop their ideas, create networks, and access new markets for their products. Together we can build on the solid industrial heritage in Aberdeen and the northeast and grow new companies to drive the move towards renewable energy in Scotland, the UK and beyond."
Maggie McGinlay, chief executive of ETZ Ltd, commented, "Innovation lies at the heart of the energy transition and the Energy Incubator and Scale Up Hub will enable us to expand our vital energy supply chain which is why EISH is integral to the Innovation Campus and Energy Transition Zone.
"The involvement of NZTC and NMIS together with the support from bp and Scottish Enterprise for this major project demonstrates how important collaboration between industry and government is in driving the energy transition with the ultimate goal being to create sustainable jobs and company growth.
"Aberdeen has always been renowned for its entrepreneurial focus in energy – home to largest concentration of energy supply chain companies in UK – and this centre will ensure we continue to support innovation and technology as we move into green energy solutions."