Innovation happens at the gaps: Welcome to Philly Tech Week 2023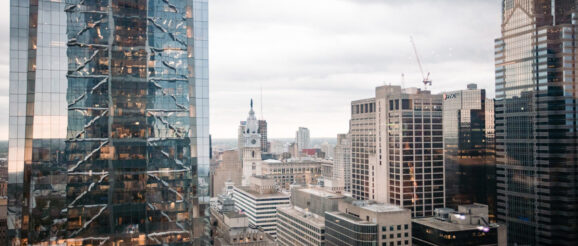 Tech and innovation are evocative terms with overlapping meanings.
Put simply, technology is commercialized science. Innovation is new solutions for old problems.
Entire economic development strategies involve decoding those two terms and how to balance them. Regions who prefer the term "tech" often focus on workforce and company type. Those who lead with "innovation" are often attempting a more generalized approach — the barbershop with a new payment system can be as innovative as a gene therapy firm, can't it?
Bundle them together and, clumsy as the language might be, you're addressing the economic needs of today. Computing and the internet are decades-old technologies that underpin the productivity gains and inventions of today's digital innovation. That requires a retooled workforce: Software needs to be written; hardware needs to be designed; processes need to be developed; and products and services need to be sold. AI has reached an inflection point but it, too, was already underway in research labs and businesses around the world.
After the dust settles on the COVID-19 pandemic, the big question isn't about what we build, but where we build it.
Enter the 13th annual Philly Tech Week presented by Comcast, the first fully in-person open calendar of events celebrating technology, entrepreneurship and innovation in four years. In 2020 and 2021, we were entirely remote, and last year we had a kind of hybrid edition. Now we're back. More than 40 events take place, with topics both for local and national audiences. On Thursday May 11, the Technical.ly Builders Conference and evening Signature Event will help close out the week — and I'll offer my own big narrative of where tech economies go next.
All along, Technical.ly has asked just about anyone who would answer: What does local mean now?
The answer seems clearer now than they did at the pandemic's outset. Individual work may happen best remotely, but collaboration doesn't. A 2018 research paper argued that innovation happens best when strong ties develop around "structural holes," or gaps in institutions. Put another way, smart people on different teams having coffee at a conference or grabbing another slice of pizza at a meetup are good for big new ideas.
That's why I bet cities will continue to endure. It's why an open calendar of events collectively marketed and widely shared is the best tool for economic gains. One theory as to why Silicon Valley developed where it did, as opposed to, say, Boston, is that California had a more permissive culture in which researchers, technologists and entrepreneurs swapped ideas more freely.
Give the Philly Tech Week calendar a look. Go to those relevant to your work. Stretch beyond it. Be open. Be free. You'll develop tech skills and be likely to spark some innovation. We need it.