Innovation has Driven Black Fly's Success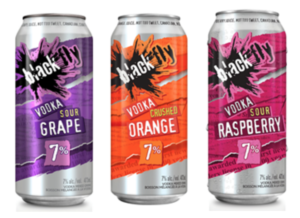 Canadian pioneer in Ready-to-Drink sector continues to carve new spaces in the industry
When the husband and wife duo of Rob Kelly and Cathy Siskind-Kelly decided to get into the beverage alcohol business, they were moving into unchartered territory.
It was 14 years ago, and craft brewers in Ontario were starting to see a shift in consumer desires creating a new opportunity in a competitive marketplace. Rob and Cathy picked up on that trend with a twist — they had a vision to introduce truly Canadian craft-produced premium spirit mixed drinks, even if it had been more than a century since Ontario issued any new distillery licences. Rob and Cathy were the first in more than 100 years to secure such a licence, and Black Fly Beverage Company was born.
"There was nothing like Black Fly mixed drinks on the market at the time, no companies like ours," says Siskind-Kelly. "We were inspired by the craft beer industry in terms of creating locally made, small batch quality beverages, but wanted expand the concept to ready-to-drink spirit beverages (vodka, tequila, rum and gin) that were significantly less sweet than the international brands that were available in Ontario at the time."
With an unwavering commitment to quality, Black Fly makes all of its spirit mixed drinks with real pure fruit juices, that are very lightly sweetened with natural cane sugar — there is no high-fructose corn syrup in any Black Fly drink and no gluten. Black Fly's flagship Vodka Cranberry drink only contains four grams of sugar per 100mL of drink; when it launched back in 2005, that was up to 60% less sugar than its leading competitors.
The newest addition to the Black Fly roster takes "not-too-sweet" to a new (low) level. The ultra-light, exceptionally low-sugar Lemon-Lime Vodka Soda Fizz and Grapefruit Gin Soda Fizz weigh in at only 2.5 grams of sugar per 100 mL.
"They are truly flying off the shelves across the country, in every Canadian market they are in," says Siskind-Kelly.
Black Fly's "not-too-sweet" mixed drinks created a buzz when released, and each new Black Fly drink introduced to the market builds on that momentum. It has propelled Black Fly to be a major player in the ready-to-drink business across Canada with more than 22 different vodka, tequila, rum, whisky and gin mixed drinks, Black Fly's signature 400 mL bottles in 4-packs and a host of highly popular can formats. Black Fly is sold in every Canadian province and territory and eight U.S. states. Black Fly is now the fifth-largest producer of ready-to-drink beverages in Canada.
It may be the natural, "not-too-sweet" approach that has built a loyal fanbase for Black Fly beverages, but that is not where the company's innovations end.
Black Fly introduced unique wide-mouth, non-breakable 400mL bottles, big enough that ice cubes fit in the top. It manufacturers its own bottles at its London, Ont., facility and boasts a roster of drinks in blockbuster flavours like Vodka Grapefruit, Tequila Margarita and Long Island Iced Tea. It regularly introduces new drinks and formats, like its line of Black Fly Sours — Sour Grape, Sour Raspberry and Crushed Orange — in 473 mL cans.
"Innovation has truly driven Black Fly's growth and success," says Kelly. "We are in a tough but thriving category with a handful of global companies that dominate the beverage alcohol marketplace and store shelves."
About 40% of products on the shelf at LCBO are owned by one company.
"It's been a big hill for an independent, wholly-Canadian-owned company to climb, but we have done just that with series of quality drinks and tremendous support from Canadians seeking authentic RTDs and choosing to buy local."
For more information, please visit blackflybooze.com. Connect with Black Fly Beverages on social media — Like it on Facebook, Follow on Twitter @BlackFlyBooze and Instagram @blackflybooze.
About Black Fly Beverages
Since 2005, after receiving the first distillery license granted in Ontario in more than 100 years, Black Fly has launched more than 22 flavours of craft produced, significantly less sweet vodka, tequila, rum and gin mixed drinks that include flagship flavours like Black Fly Vodka Cranberry, Tequila Margarita, Vodka Grapefruit and Long Island Iced Tea. Consumers have embraced this unique brand that continues to innovate and deliver bar quality mixed drinks in a host of great formats that include bottles and cans. All Canadian craft-produced Black Fly mixed drinks are made with real juices, lightly sweetened with cane sugar (not high fructose corn syrup), blended with real spirits (6% or 7% alc./vol.) including Mexican Tequila. In addition to Black Fly's highly popular signature 400mL bottles (in four-packs), and trendy Black Fly Sours in single serve 473 mL cans, Black Fly's newest drink creations are ultra light and extremely low in sugar at half the sweetness of their previously least sweet Vodka Cranberry.  Black Fly Lemon Lime Vodka Soda Fizz and Black FlyGrapefruit Gin Soda Fizzmixed drinks that launched Blthis spring in 355mL 6-packs are creating a buzz for this innovative company. Today Black Fly is sold in every Canadian province and territory and eight U.S. states.