Innovation in Government—Podcast Season 2 Premiere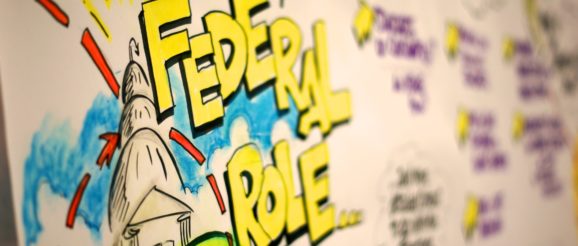 'Innovation' is a word we hear (and use) a lot at the Kennedy School, but what does it really mean? To kick off Season 2 of the podcast, we bring together Master in Public Administration candidate, Erica Pincus, and lecturer in Public Policy, Nick Sinai, to help demystify innovation in government based on their experiences in the White House. Plus, Nick tells the Joe Biden pool party story.
The Kennedy School Review's Podcast explores the vast range of talents and experiences that HKS students and faculty bring to our community. We highlight student voices and bring students and faculty together to discuss the work they do. to make sure you never miss an episode.
Erica Pincus is a Master in Public Administration student at the Harvard Kennedy School of Government and a Master in Business Administration student at the Stanford Graduate School of Business. Before coming to HKS, she served as a Policy Advisor and Special Assistant for the White House Office of Social Innovation within the Obama Administration's Domestic Policy Council. In that role, she supported the development of data-driven and technology-enabled policy solutions to measurably advance ladders to economic opportunity, equity, and justice.
Nick Sinai is an Adjunct Lecturer in Public Policy at the Harvard Kennedy School, where he teaches Technology and Innovation in Government. Previously, Nick served as U.S. Deputy CTO in the White House, where he led President Obama's Open Data Initiatives to liberate data to fuel innovation and economic growth, and led the Open Government Initiative to ensure that Federal Government is more transparent, participatory, and collaborative. Nick helped start Digital HKS, a school-wide effort to bring more technology, innovation, and design to Harvard Kennedy School.
Edited by Jana Pohorelsky
Photo credit: Ted Eytan on Flickr
The post Innovation in Government—Podcast Season 2 Premiere appeared first on KENNEDY SCHOOL REVIEW.