Innovation in technology and process is key for sustainable future ahead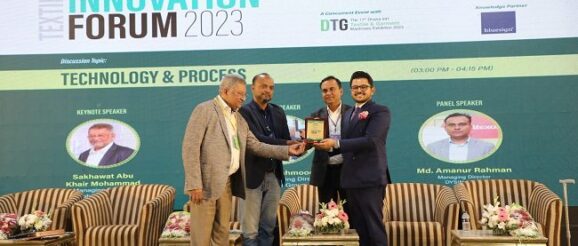 Innovation plays a key role in introducing novelty to existing product lines or processes, leading to increased market share, revenue, and customer satisfaction. Without innovation and adaptation of technology, it will be difficult for us to sustain in the upcoming challenges. Product prices has gone up significantly over the years, however, the selling price is not increasing.Covid-19 situation, Russian-Ukrain war have impacted and worsened the situation more in the global mart.
Sakhawat Abu Khair Mohammad, Managing Director of Robintex Group addressed that particular issue while speaking as the keynote speaker in 'Textile Innovation Forum 2023' held on 16 February on the premise of Dhaka International Textile and Garment Machinery Exhibition at International Convention City Bashundhara, concurrently with Dhaka International Textile and Garment Machinery Exhibition 2023. The Textile Innovation Forum focused on some major issues and factors those are highly relevant to the recent interest of textile sector. Technology and process, Automation and 4IR, Implementing Sustainability – these topics were discussed in the seminar in three separate panel discussions.
In the panel discussion on 'Technology and process' along with Sakhawat Abu Khair Mohammad, Panel Speaker Rafee Mahmood, Deputy Managing Director of Mahmud Group; Panel Speaker Md. Amanur Rahman, Managing Director, DYSIN Group led the program and held discussion about various innovation and challenges where Tareq Amin, Editor & Publisher, Textile Today moderated the session.
Emphasizing on sustainability practices Sakhawat Abu Khair Mohammad said, "Sustainability practice is necessary for us to survive in the present problematic situation. We need sustainability in terms of energy consumption, water consumption, reduction of carbon footprint, wastage reduction, and ensuring the safety of our workers."
"Korea, Taiwan, china are bringing innovations but cannot sustain in the market for the less availability for market, spare parts and other issues. Adaptation of the new technology has to be obtained as soon as possible for which dedicated and educated team is required from both the worker and manager level of personnel," he added.
Sakhawat Abu Khair Mohammad also said, "There are some areas which should be focused in the textile industry. Industry has to be objective oriented for focusing on the issues in terms of sustainability. The industry managerial personnel should also measure the impact of profit and production. Profitability should be the key measuring approach for production quantity."
"Water reduction and energy consumption is needed to be reduced. 80-85 litre of water is needed for processing per kg of fabric. These excess water is polluting the environment and creating hazardous situation for the workers. ETP plant is a sustainable solution for the challenge of water pollution. Only the facilities and machineries cannot ensure us full sustainability in the process. We should focus on digital printing process which uses less water and less pollution," Sakhawat Abu Khair Mohammad further added.
Highlighting how process can be optimized Amanur rahman said, "Automation and Artificial Intelligence can save labor cost, improve efficiency, and consistency. Looking forward to digital technology can help us digitize in the right process and right method. Data analysis is becoming necessary for technical information gathering and finding bottleneck in the process. Internet of things (IOT) is necessary method for collecting the data needed for different process, inspection, finding fault, and inconsistency index which can be controlled and monitored centrally."
E-commerce is another way of technology to look into. We should reach diversified marketplace for better reach of our product. This can accelerate the growth of RMG export further, he said.
He pointed out on Sun chemical — the world's leading producer of inks, coatings, and pigments for digital printing all over the world.
"Sunjet aims to be major supplier of inkjet ink to packaging, graphics, industrial textiles, publication area across the globe. We must focus on less packaging, plastic to paper transformation, bio-renewability, compostability, recyclability, less carbon emission. Shifting from a linear economy to a circular economy can improve sustainable practices," Amanur Rahman Added.
Saying that the digital printing is the new sustainable system of printing which is taking over traditional printing day by day – he said, "We can reuse, reduce, renew, recycle and redesign. Digital print system does less wastage, no plates, less ink wastage, direct to textile dye sublimation inks eliminating use of transfer papers. Vegetable oil based ink is being used as a replacement of mineral oil. Cost of digital printing is now being reduced day by day implementing usage of digital printing machinery in textile industry."
We should invest more on people. Effective and efficient workforce can help reduce wastage and create an optimum technical environment saving time and cost, he added.
Rafee Mahmood said, "To create a better impact on 4th Industrial Revolution, we need to gather big data analysis metrics for keeping data in a central system. Artificial intelligence can be of big help in this analysis process. AI integrated boiler should be implemented for creating better sustainable system throughout the industry."
Water consumption is a huge problem in textile sector nowadays. Water consumption reduction is a sustainability challenge which is hugely impacting the environment.
"Right now, we are working on denim sector for making zero water wastage process. We have already reduced from 700 ml of water wastage to 300 ml of water in the recent development process. Rain water harvesting is a sustainable way ahead. These rain water is directly linked to mud which can help to reduce impact on the environment," Rafee Mahmood said.
Innovation in technology and process is a key area for our sustainable future ahead. Improved machinery, process, technology can save cost, time and effort. Improved process can reduce worker inefficiency and create a better value addition overall. Right technology usage at right way can help solving upcoming challenges, he mentioned.
Highlighting recent challenges Rafee Mahmood said, "One key challenge we are facing is that gas price is constantly increasing day by day. Industry is trying to implement their own power generation system. But this process is not a simple or hassle free method."
"As of now, we are booking our orders for April and May month. Our buyers have already placed orders in the current price rates. But increased raw material, gas and electricity prices are not included for our future deal rate. Thus we can be of severe loss in terms of overall garment order," he added.