Innovation Index: Nigeria ranks 113th globally, as UNILAG launches initiative to rewrite history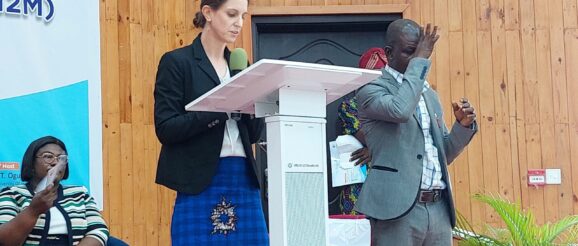 Despite ranking 50th in the world among countries with research paper publications, Nigeria is said to have ranked poorly in the number of innovations derived from these research papers.
According to the Acting Director of the Innovation and Technology Management Office (ITMO) at the University of Lagos (UNILAG), Akoka, Abiodun Gbenga-Ilori, a total of 13,282 research papers were published in Nigeria in 2020, ranking 50th globally based on the figure.
However, Mrs Gbenga-Ilori said only 300 of the 13,282 research papers led to successful innovations.
She said in Ghana, Nigeria's neighbouring West African country, where only 4,189 research papers were published within the same period, more than 300 innovations were recorded.
Mrs Gbenga-Ilori made the revelations in UNILAG on Thursday at the launch of an initiative tagged: Project Innovation to Market (I2M).
About I2M
Described as a support system for building a sustainable innovation ecosystem in Nigeria, the project, according to the university's Vice-Chancellor, Folasade Ogunsola, is aimed at addressing the challenges of innovations and translation of research works in Nigeria.
She said: "Despite the abundance of brilliant ideas, many innovators face significant hurdles when it comes to turning their concepts into viable commercial ventures. And that is where Project Innovation to Market steps in. This initiative recognises the challenges that exist and also recognises the immense potential of groundbreaking ideas and we seek to bridge that gap between innovation and commercialisation."
Mrs Ogunsola, a Professor of Medical Microbiology, said the primary objective of I2M is to provide innovators and researchers with the necessary resources, mentorship, and support to transform their ideas into market trading products and services, "and will help them early to identify buyers."
She said the project is a pioneering initiative funded by the UKAID's Research and Innovation Systems for Africa (RISA) to bridge the knowledge gap in Nigeria by providing resources on how to innovate and translate research outputs into the market.
Speaking on the project's goal, Mrs Gbenga-Ilori, who doubles as the Team Lead, highlighted the factors identified to be militating against the conversion of research to innovation in Nigeria including "lack of proper know-how on how to innovate; limited access to capital for prototyping; inadequate access to machinery and laboratory equipment; slow intellectual property protection, and limited access to market and industry linkages."
She said the project aims to nurture innovations at various stages, by providing training, incubation, mentorship, advisory, funding, patenting, and company and tax registrations.
"I2M is an initiative for all Nigerian innovators, not limited to the UNILAG community, and we will be collaborating with research institutions nationwide. We also have industry experts we plan to collaborate with to serve as mentors to our participants across the country," she said.
Funder, others speak
In her welcome remark, UNILAG Deputy Vice-Chancellor, Development Services, Ayodele Atsenuwa, said innovation and research are what universities are known for, and that they are major ways to address unemployment.
She said the project I2M is one of the first activities of the university's ITMO that won a funding opportunity from RISA through a competitive process.
Speaking on the initiative, the Country Manager of RISA, Alice Omisore, said the objective is to bridge the gap "between research institutions and innovators through funding and technical support for many organisations that are focused on providing capacity building for the research and innovation ecosystem."
Also speaking, the West Africa Research and Innovation Team Lead of the Foreign, Commonwealth and Development Office (FCDO), Leane Jones, commended the university for the initiative.
She said: "The project is exciting as it brings together key stakeholders from a vast range of organisations critical to support innovation across the nation, including universities, polytechnics research institutions, innovation hubs, industry, entrepreneurs, and policymakers, pooling ideas and resources.
"Pooling ideas and resources more formally into a research, funding and training database repository for all stakeholders will create opportunities for growing advocacy policy chain for innovation and fundraising needed for translating research into innovation."
Meanwhile, the Director of Skills Development and Entrepreneurship at the National Universities Commission (NUC), Ladan Ashafa, who represented the agency's Executive Secretary, Abubakar Rasheed, commended RISA for the funding.
Mr Ashafa said collaboration should be adequately considered in the project's operation, describing it as the future of innovation.
Expected outcome, sustainability
Speaking on the expected outcome and sustainability plan of the, the project team lead said within the first year, the initiative will see to the formation of a working consortium.
Mrs Gbenga-Ilori said other expected outcomes include the creation of iBank software platform, on boarding and training of 800-innovators, 100 innovations licensed to the industry, 20 incubated startups and a co-working space to be used by innovators.
She noted that 600 of the 800 innovators have already been onboarded, adding that 225 supported Minimum Viable Products (MVPs) have been created, and that it will ensure the provision of a minimum of 80 IP protection request fields.
She added that the goal is that post-first year, the university's ITMO will leverage its partnerships to secure more project funding for sustainability.
The project's Innovation Director, David Alozie, said the project team is hoping to collaborate with investors and private industries to identify their interests in the innovations for mentoring and funding.
He said there is a portal for registration and for investors to check the works of the participants.
Nigeria Innovation system
The launch of Project I2M also featured a panel session on how to strengthen the Nigerian Innovation Ecosystem.
The panel session had the Founder of Future Africa, Iyinoluwa Aboyeji; the Executive Director of Fate Foundation, Adenike Adeyemi; the Country Director of Google Nigeria, Juliet Ehimuan; the pioneer Head of UNILAG Innovation Unit, Hakeem Amuda; the Executive Secretary of Lagos State Employment Trust Fund, Teju Abisoye; and the Founder of the Ground Breakers, lan Barker, who joined virtually.
Mr Aboyeji acknowledged that the internet has created many opportunities but that Nigeria needs to do more by creating room for innovations that will gain momentum globally.
He emphasised the need for the optimisation of human potential and rethinking the market for more viable opportunities.
Share this:
Support PREMIUM TIMES' journalism of integrity and credibility
Good journalism costs a lot of money. Yet only good journalism can ensure the possibility of a good society, an accountable democracy, and a transparent government.
For continued free access to the best investigative journalism in the country we ask you to consider making a modest support to this noble endeavour.
By contributing to PREMIUM TIMES, you are helping to sustain a journalism of relevance and ensuring it remains free and available to all.