Innovation is essential for Phl transformation, says PBBM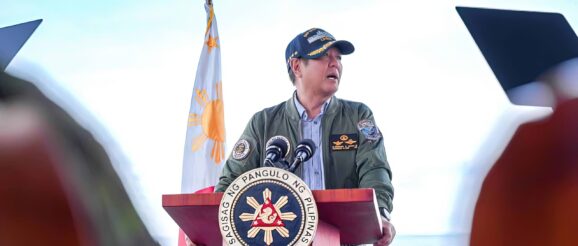 President Ferdinand Marcos Jr. on Wednesday emphasized the importance of innovation in transforming the country and achieving its development goals.
In his speech during the launching of the National Innovation Agenda and Strategy Document 2023-2032, Marcos called on all the stakeholders to collaborate with the government in promoting innovation.
"Invest in our local enterprises. Support our research institutions. Embrace the corporate responsibility of financing innovation-driven programs and projects," Marcos said.
"These undertakings serve as catalysts to achieve our overall developmental agenda. Your involvement will be instrumental to their success," Marcos added.
Marcos also called on the academe to be at the forefront of innovation as the Chief Executive recognized their role as incubators of talent, skills, and ideas that will shape the future.
"Continue to develop the minds and the sensibilities of our youth so that we can set them up for success and harness their talents for national development," Marcos said.
Marcos said that the government is steadfast in its commitment to nurturing innovation and sustainable development.
He added that the government understood the crucial role played by infrastructure development and cutting-edge facilities.
"They serve as the crucible for innovation and the foundation of our glorious future. And that is why we will remain aggressive in our drive to invest in our infrastructure system," Marcos said.
Marcos said that he is confident that the Philippines can achieve its goals for innovation and sustainable development with the guidance of the NIASD.
In the same speech, Marcos said that the NIASD is a "blueprint that will accelerate the country's innovation governance as well as promote a culture of innovation among scientists, researchers, entrepreneurs, engineers, and of course citizens."
He added that the document is not just a plan but a commitment to making innovation an indispensable component of the nation's development agenda, and a key driver in the vision to achieve a truly smart and innovative Philippines.
NIASD, which Marcos approved on 30 June 2023, is in accordance with Republic Act 11293, also known as the Philippine Innovation Act.
Per the information provided by the National Economic and Development Authority, the NIASD has outlined its plans from 2023 to 2032.
One of the plans includes reforming the education curriculum design and learning platforms to develop Filipinos' creativity, curiosity, problem-solving skills, and entrepreneurial abilities for the 21st century.
The post Innovation is essential for Phl transformation, says PBBM appeared first on Daily Tribune.