Innovation, It's All About the Experience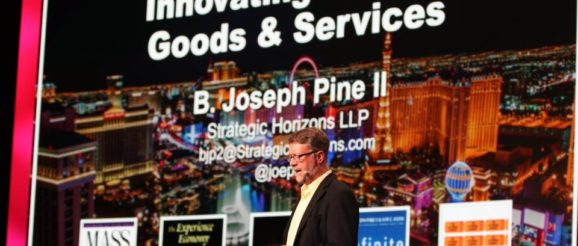 Experience, experience, experience, like location in real estate, is everything in today's new experience economy where compelling experiences engage and delight customers, as well as differentiate and drive economic return for suppliers.
At his keynote at TIBCO Now 2018, Joe Pine, co-author of The Experience Economy: Work is a Theatre & Every Business a Stage, described how customer experiences can frame the competitive battlefield as organizations innovate beyond goods and services.   Starbucks, a customer experience superstar, was one of many examples Joe used to explain the economic value progression from coffee as a commodity at a farm, to roasted coffee beans as a retail product, to coffee as a service from a diner or convenience store, to the coffee-centric experience at one of Starbucks 27,000+ locations.  Across this value chain, Starbucks is the participant reaping the greatest financial return. A return built primarily around a compelling customer experience.
TIBCO NOW's location, Las Vegas, certainly understands the importance of a compelling customer experience.  Rising from an inhospitable desert, Las Vegas has continuously evolved its customer experiences starting with gambling and entertainment, adding family-friendly options, corporate event offerings, the hottest chefs and cuisine, and most recently professional sports.   So today, despite more competition than ever, Las Vegas continues to thrive.
TIBCO's flagship analytics offering TIBCO Spotfire®, like Starbucks, has always been all about the customer experience.  As the industry's first data visualization product, Spotfire® pioneered the self-service business intelligence category.  And like Las Vegas, Spotfire continues to reinvent that experience, most recently with the release of Spotfire X and its A(X) Experience for TIBCO Spotfire®, an industry-first, AI-driven analytics experience that fuses agile data exploration with natural language processing (NLP), machine learning recommendations, and model-based authoring, adding native support for real-time streaming data. This experience allows Spotfire customers to humanize their data and information, allowing them to make better decisions, faster.
TIBCO's goal with the A(X) Experience was to harness the power of AI to augment users' knowledge, magnify their skills, and thereby simplify and speed decision making.  By complementing Spotfire's familiar point-and-click, agile data exploration, the A(X) Experience seamlessly surfaces machine-learning-based guidance, recommending data relationships and uncovering patterns for users as they explore. A user can type a request and Spotfire will not only create visualizations, but also make prescriptive suggestions using the results, such as blending data, marking matched records, or launching analytical tools. Click a value, drag a chart, type a question, and Spotfire will deliver a clear response. The A(X) Experience will be available this fall with the release of TIBCO Spotfire® X.
Netting this out, the Spotfire A(X) Experience delivers:
Agile Analytics

: Reinvents user interface to simplify and speed up data exploration.

Augmented Analytics

: Natural language search and AI deliver instant insights.

Automated Analytics

: Automatically recorded dataflows make it easy to amend, author, and audit data lineage.

Accelerated Analytics

: Real-time visual analytics on data streams enable real-time actions and awareness.
Understanding the importance of providing a compelling experience over just another analytic product, my friend Brad Hopper, vice president, analytics product strategy here at TIBCO put it succinctly as follows:
"Companies around the world have more than enough graphs and charts; what they are searching for is faster insight and better decision-making.  With the A(X) Experience, we have both simplified the practice and increased the power of exploring data. Business users just getting started can nevertheless make important discoveries, and experienced analysts can get their results even faster. We believe the A(X) Experience will help companies get more return from their investments in people and data."
It's all about the experience.