Innovation key to empowering women, says minister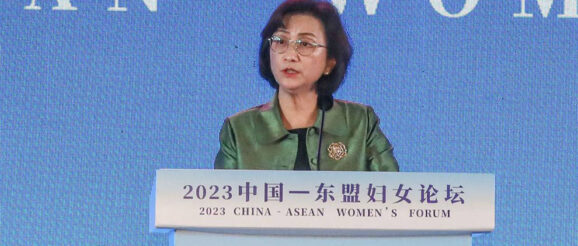 Cambodian Minister of Women's Affairs Ing Kantha Phavi has underscored the importance of science, technology and innovation (STI) to women's development, and noted that the new government has prioritised digital education for women and girls.
Kantha Phavi addressed the ASEAN-China Women's Forum 2023 on September 15, in Guangxi Zhuang Autonomous Region.
The minister explained that (STI) will be a pivotal driver to respond to global challenges. It will also accelerate the attainment of the UN's Sustainable Development Goals, as it will shift the development pathway from a focus on traditional growth to support for inclusive and sustainable growth.
"STI will enable the structural transformations that are required to achieve prosperity, peace and security, employment and the improved well-being of all people," she said.
She added that promoting equal access and participation of girls and women in the STI field should be among the top priorities of all governments.
"We should not limit our understanding of innovation to only within the realm of the digital and technological world, or to science, technology, engineering, arts, and mathematics. Advancing gender equality and women's empowerment requires a more holistic approach," she explained.
She stressed the importance of understand the changing dynamics of the digital world for transformative change, keeping abreast on "complexity, multi-dimensionality, and interconnectivity of trends… to forge new alliances and partnerships", and of focusing on and addressing each and every issue and challenge, step by step.
Kantha Phavi shared the new government's priorities, noting that it has placed top priority on building a vibrant digital economy and society in order to accelerate new economic growth, promote social welfare and drive sustainable development, under the new normal.
"This is why the National Science, Technology, and Innovation Policy 2020-2030 was adopted. It will build our national capabilities in STI and strengthen our innovation capacity, in order to respond to the fundamental needs of the nation – especially of women and girls," she said.
She added that the government has also adopted the Cambodia's STI Roadmap 2030, which targets five main pillars: Governance, education, research, collaboration, and ecosystems.
"One of the main objectives among these pillars is to empower women and girls, with a particular emphasis on ensuring that by 2030, at least 40 per cent of STEM graduates will be women," she explained.
According to the minister, the government has put a special focus on improving women's digital literacy – as well as their access and participation in the digital sector – through the Policy Framework on Digital Economy and Society. The government also intends to promote women's digital leadership within government institutions, and has provided a roadmap to guide and develop programmes for young girls and women to close the gender gap in the digital sector in Cambodia.
She also positively highlighted the excellent bilateral ties between Cambodia and China through the implementation of the Belt and Road Initiative, the Global Development Initiative and the Lancang-Mekong Framework Cooperation.
"We believe that multi-levels, multi-dimensional, and multi-partners approaches, such as ours are the key to making a contribution to promoting, driving and accelerating not only women's economic empowerment in the digital age, but also the use of innovation to boost women's development," she added.