Innovation sets Inland Iron & Metal on a path to growth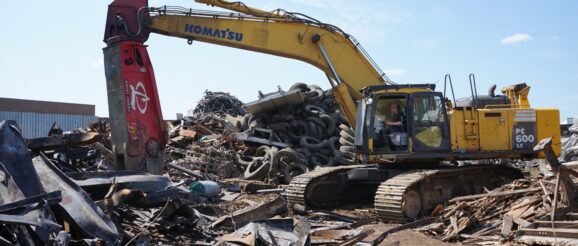 For three generations, Inland Iron & Metal has been innovating in the metal recycling business, and they show no signs of slowing down.
The company has been run by the Scott family since 1962, and they've worked together to build an empire.
"I went to my Business Management class in university, and the first thing the professor said was never to go into business with family," laughed owner-operator William Scott. 
"But this family – We have something special. We don't even think about things like that. We are one unit pulling in the same direction, and we're all team players."
That commitment to each other extends to their customers as well and serving them properly is top-of-mind.
"Some companies that grow become more corporate. The biggest thing for us is we're so hands-on. We are there for the day-to-day and have our boots on the ground. You don't have to run through four channels to get answers," said brother and fellow owner-operator Brandon Scott.
"If a bin is necessary on a long-weekend Friday or holiday Monday, I jump in the truck and so do my brothers. We always do what needs to be done, and you can't compete with that."
The company has also made great strides in terms of sustainability and their footprint on the environment.
"We have come a long way, but there's still a long way to go. We just want to keep building for the next generation, and leave everything better than we found it," William said.
"It's something I think about weekly. Being more sustainable saves us money and it uses less resources more effectively."
LaBounty shears
With innovation embedded in the way they do business, Inland Iron & Metal requires reliable equipment. The team has made some significant investments recently, including the acquisition of a LaBounty MSD 4000 and MSD 4500 shears from PineRidge Lisco Edwards.
"We've used the brand and had shears from them before, so we didn't have to do research. There's a different blade on the jaw, but everything else is the same. It's a good product and has been for 40 years," William said.
The shears are used at Inland's yard to cut larger pieces of metal into sizes more manageable for transport. 
LaBounty's MSD shear series delivers 10 per cent more cutting force than its previous models. The MDS shears are equipped with Dual Max Indexable Protection, a piercing tip that protects the tool from wear and reduces maintenance.
The shears also feature full 360-degree rotation with improved balance, which reduces attachment drift and increases operation stability. The tools also feature an enhanced and more durable lower jaw and long-lasting index blades with intuitive patterns for 4-way indexable cutting. 
The MSD 4500 weighs 8,500 kg, and features a 99 cm jaw opening, 109 cm jaw depth and a 3.4 metre reach. The MSD 4000 weighs 7,800 kg, and features a 97 cm jaw opening, 109 cm jaw depth and a 3.5 metre reach.
Growing Inland Iron
In the last few years, Inland has grown and their equipment processes have become much more streamlined. But they've also focused on other big changes.
"We've also made our yard more public-friendly. Scrap yards can be intimidating, and we updated our website, signage and strive for a more friendly drop-off. We're always trying to cater to our customers," William said.
Inland Iron and Metal has two locations: one in Mississauga and the second in Sutton, Ontario. In the last 18 months, the company's staff has grown by 20 per cent.
"We're fortunate to have some great employees to work with our family. We hire people for the yards from the communities we're in. Some of our employees have been here 25 to 30 years, and 80 per cent of them I've known since I was a kid," Brandon said.
Inland Iron & Metal also works within the communities they serve to give back, starting with sports for youth.
"We grew up playing hockey. So, we sponsor kids teams – both jerseys and games. We're also involved with Georgina Cares to help underprivileged kids, donate to the women's shelter and more. We do our part. We've been here over 60 years, and people know what we are and what we do. Giving back is a no-brainer," Brandon said.
For Inland, the logical next step is expansion, and finding land zoned for the work they do.
"We're actively looking. With this core set-up, if we add a yard every year or two years, we want to keep the same level of service and grow volume. It's about how much material we can move. It's important to continue to take care of the community too," he said.
"It's a lot of work, but it's rewarding here. We're a pretty happy company, and it's an honest living. Everyone is pretty on-board."