Innovation shapes the future of $2.3 billion Tanzania's Tourism Industry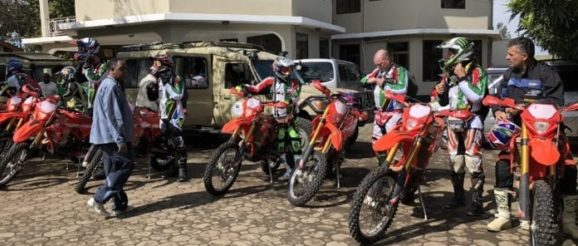 Innovation is slowly, but surely shaping the future of $2.3 billion travel and tourism in Tanzania, as the natural resources-rich country seeks to maximize the potential of
Innovation is slowly, but surely shaping the future of $2.3 billion travel and tourism in Tanzania, as the natural resources-rich country seeks to maximize the potential of the industry.
Whereas the importance of innovation has long been underestimated in the Tanzania's tourism, trends and consumer preferences are compelling tour firms to develop new products, in addition to mainstream wildlife to create value for tourists.
Managing Director of Parks Adventure, Mr Don Ndibalema, confirms that the concept of innovation is a vital concern for tourism firms of all sizes now than ever – as they need to stand out from stiff competition with successful and profitable operations.
Mr Ndibalema, a seasoned tourism guru, is leading, among his peers, innovating fresh products in his latest efforts to make tourists stay longer in the country.
For instance, this year alone he inaugurated two major tourism products, including Tanzania Off-Road, targeting tourists who seek to test their endurance by ridding motorbike on rough roads for several days, while enjoying awe-inspiring landscape, wilderness and wildlife.
Discover the Ancestors Roots is probably the most emotional tourism product, eyeing to woo African-Americans population with curiosity to learn their descendant's culture and more specifically, preserved stunningly horrific record of slavery trade.
"In the world, driven by the focus on innovation and creating value for tourists, tour operators have no option but to come up with new tourism products to woo more holiday-makers and make them stay longer," he explains.
Mr Ndibalema, who flagged off 19 Italian tourists on a nine-day adventure to experience his new Tanzania Off-Road tourism product, says innovation is the surest way for Tanzania to maximise the potential of travel and tourism industry.
The product entails riding motorbikes on off-roads leading to various national parks, where tourists would explore landscapes, wilderness and other natural wonders.
Parks Adventure tour guide spearheading the convoy, Geofrey Kaaya says that the tourists will sample rough road from Arusha to Nyumba ya Mungu dam in Mwanga, Kilimanjaro as they head to Mkomazi National Park.
The group will also touch Mererani hills, the World's place where a rare gemstone, Tanzanite is found, Arusha national park, Longido, a Ramsar Site Lake Natron, Ngorongoro Crater, among other key attractions in northern tourism circuit.
A tourist from Italy, Mr Matteo Lombardi, who takes part in the Tanzania Off-Road journey, says the product is one of the most sought in Europe, as majority of travelers would like to experience an off-road motorbike ridding.
"There's a huge tourism market for off-road motorbike ridding in Europe as most of the people not only wish to test their endurance, but also experience a new product, apart from wildlife," Mr Lombardi explains.
He says that they were surprised to learn that Tanzania is the country blessed with striking natural scenery that varies from vast tracts of wilderness to gorgeous seascapes.
"The landscape of Tanzania is incredibly diverse. High plains valleys alternate unexpectedly, savannahs, beautiful game parks, mountains, lake and coasts" he explains.
Tourism stakeholder, Mr Donovan Mwanga commended the new products saying the move promises a better future for local tourism industry
"The new tourism products would be a major boost to our tourism because there's growing market of tourists who look beyond wildlife, mountain and beach," Mr Donovan notes.
Indeed, recently, Tanzania National Parks (TANAPA) invested $10 million to develop a number of new tourism products and
services into national parks in a bid to offer tourists alternative activities to woo more visitors and stay longer in the country.
Save for Serengeti, game drives as a major adventure in most of national parks in Tanzania, last for a day, making an economic nonsense both for a tourist and a host country.
Tanapa's director of tourism and marketing, Mr Ibrahim Mussa says that a canopy walkway construction at Marang' thick forest in Manyara national park which become operational January 2016 is now allowing tourists walk above the trees.
A dense Marang forest located on the escarpment above the Manyara Park is a crucial secondary habitat for migrating elephants from Lake Eyasi and Ngorongoro crater.
Cocoon nests campsite is yet another tourism item in the same park targeting the holidaymakers whose interests are to nest with the birds in their own cocoon tree.
In the list services there's a horse riding within the scenic Arusha and Kitulo national parks respectively.
Wildlife tourism attracted more than 1 million guests in 2017, earning the country $2.3 billion, equivalent to nearly 17.6 percent of GDP.
Additionally, tourism provides 600,000 direct jobs to Tanzanians; over one million people earn an income from tourism.
Tanzania hopes the number of tourist arrivals will hit over 1.2 million this year, up from one million visitors in 2017, earning the economy close to $2.5 billion, up from the last year's $2.3 billion.
According to the five-year marketing blueprint rolled out in 2013, Tanzania anticipates to welcome two million tourists by the close of 2020, boosting the revenue from the current $2 billion to nearly $3.8 billion.