James Dyson on His New Innovation, Dyson's Airstrait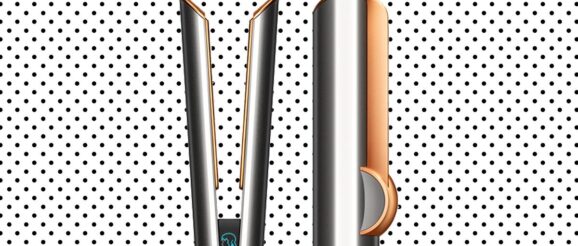 Sir James Dyson first came for the vacuum. Then the blow-dryer. Then the curling iron. Then the straightener. And now, he's coming for his own designs. His latest — a straightener and blow-dryer combined, called the Airstrait — is meant to cut down the time it takes to do your hair in half. Could it replace your blow-dryer? "It could," says Dyson, the billionaire who was knighted by Queen Elizabeth II in 2006 and is known as the Steve Jobs of hair. "And it's quicker."
It's the innovation that excites him, the Airstrait is a wet-to-dry straightening tool that uses air, instead of hot plates, to straighten and dry the hair. "I'm 76 and I'm still enjoying this as much as I did when I was young," says Dyson recently. "I'm not being a chairman of anything, I'm working on and helping design new products." Sure, it's $500, but as a Black woman who has spent thousands of dollars on my hair, I needed to understand if this could actually work for me.
The morning before the launch I sat at a breakfast table full of beauty editors (our version of an Apple reveal event) playing a guessing game of what could be next: "Maybe hot rollers?" one said. Dyson launches are always a secret that everyone wants to know about. The engineers are not even allowed to tell their partners. "They're absolutely not allowed to," says Dyson, laughing. "So when we launch, it's a great relief."
The process to create the tool began six years ago and started with the motor. Dyson noticed that most motors for hair tools are heavy and cumbersome. They reduced the size, which allowed them to put the motor in the handle. "That tiny little motor there enables us to get a huge amount of pressure and power to deliver air so that you can seriously dry and style your hair," he says pointing to a circular motor that could fit into my hand. It's the same high-pressure motor used in the brand's other hair tools like the Airwrap and blow-dryer, the key to effectiveness. "The study of airflow and what airflow can do. It's very important for us."
One of the most unique characteristics of all Dyson hair products are the shocking results on all hair types. In 2023, it shouldn't be shocking, but the unfortunate reality is that most hair tools aren't universal and they leave Black women in the dark because it's a challenge to tackle more coarse hair. For Dyson, it's a challenge he finds globally and one he enjoys taking on, in fact, it's where he starts the development of his tools. "When you're developing tools specifically for type 3 and type 4 hair, you suddenly realize that it also has advantages for type one hair. If you take on the most difficult challenge, it improves the easiest challenge," he says. "And that's true of life in general actually, but it's become true in hairstyle."
While some companies may view starting with coarser hair as working backwards, Dyson views it as working smarter. I watched the Airstrait be used on fine textures, but I held my opinion until I saw it used on someone with a coarse texture and that's when I was sold. The model with type 4 hair told me the Airstrait helped her get through half of her wet hair in 10 minutes. For Black women who dedicate entire days to wash their hair, this is more than a game changer, but a lifestyle change. The glossy and smooth finish was also a surprise, along with the fact that it dries the hair from the roots without burning or irritating the scalp. Although the Airstrait doesn't get coarser hair as sleek as a silk press, it's ideal for a pre-styler before braids or even a sleek ponytail hair stylist Jawara tells me.
While amazed at the results regardless, I tell Dyson that everyone's going to love this innovative tool because they love anything his brand creates and he quickly shuts me down. "No, no, no. Everyone is different, you're starting again." It's clear that he doesn't rely on his billion dollar name. Instead, he considers the brand a new company each time they launch a new product, a company that no one knows of. "You can't expect it to sell because it has the name Dyson on it, it's got to sell because it's good and it does what it says it's going to do."
Dyson also enjoys the virality of his products, mostly because it helps to reach new audiences. And the TikTok kids (ages 14 to 16 years old) love him. The Airwrap quickly became a talking point on TikTok because of how easy it is to get the perfect blowout and effortless curls with it, adding to it's success. "They watch that sort of thing and they tell their parents and that's who usually pays for it," he says jokingly. The viral videos of the Airstrait have already started and the product hasn't been out for a week yet. The products have also become a household status symbol, which Dyson didn't expect.
"We come from a world of vacuum cleaners and hand dryers and purifiers," he says. "But getting into the beauty industry was really interesting because you've got a product that people are really interested in and often people aren't very interested in their vacuum cleaner or their purifier or their hand dryer that they find in the washroom. But they are interested and really care about hair products and they talk about it as well." He notices a shift in interest when it comes to beauty. "Being a status symbol is a complete surprise to us, we just tried to do the best hair dryer we could."
Stay in touch.
Get the Cut newsletter delivered daily