J&J spinoff Kenvue CEO looks to innovation after IPO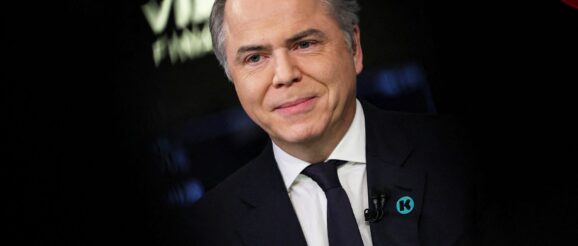 Kenvue CEO Thibaut Mongon is betting on brand and product innovation to drive growth at the newly spun-out company after its solid debut on the public market Thursday. 
"In the next quarter and frankly, in the years to come, we are going to continue to do what we do best, which is innovating to find new ways to serve consumers and help them take better care of their health," Mongon told CNBC in an interview shortly after shares of Kenvue started trading on the New York Stock Exchange.  
related investing news
Shares of the company gained 22% Thursday to close at $26.90 per share. The stock hovered around that level in early trading Friday, giving the company a market value of roughly $50 billion. 
Kenvue, spun out of Johnson & Johnson, carries a packed portfolio of widely known brands, such as Band-Aid, Tylenol, Listerine, Neutrogena, Aveeno and J&J's namesake baby powder.
Ten of Kenvue's brands booked approximately $400 million or more in sales last year, according to a preliminary prospectus the company filed with the Securities and Exchange Commission last week.
But Mongon told CNBC that Kenvue's portfolio of brands has "ample opportunity" to grow.
The company's plans for product innovation involve new science and technologies to develop new products that meet the specific needs of consumers in a way that hasn't been done before, according to Mongon.
Kenvue has a team of around 1,500 research and development professionals who identify new ways to enhance a given product.
Mongon believes product innovation ultimately makes Kenvue's brands "more relevant than ever" to consumers as they better target their needs.
"There is no limit for you to take care of your health in a better way and there is no limit for us to invent products and solutions to help you do that," Mongon told CNBC. 
As an example, Mongon pointed to a sunscreen launched under the Neutrogena brand. The company designed the product, Neutrogena Invisible, to blend into the skin without creating the unflattering chalky white residue most sunscreens leave behind, eliminating a consumer pain point for applying the protection.
As a result, Mongon said, that product could reach consumers who may not regularly use traditional sunscreen.
"That's our contribution to the world. To provide these consumers with a solution: Strong sun protection but also great aesthetics," Mongon said. "That should make more people use sunscreen on a regular basis, which we know is so important for the skin." 
The company has launched more than 100 new product innovations each year since 2020, according to the company's prospectus. Product innovations launched during the last three years have accounted for around $1.5 billion of Kenvue's net sales, the company said in its filing.
Mongon said the company will "keep pushing the envelope" to launch new products in the upcoming years.