"Jordan's Startup Spectrum: Pioneering Innovation and Entrepreneurship" | UAE News 24/7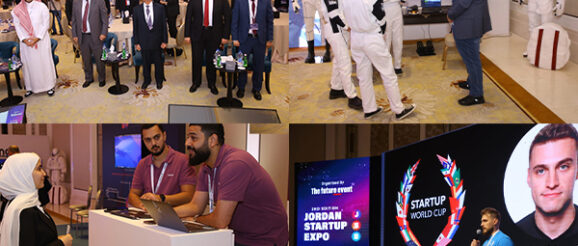 "Jordan's Startup Spectrum: Pioneering Innovation and Entrepreneurship"
The Global Stage for Jordan's Most Innovative & Emerging Startups
The Hashemite Kingdom of Jordan: Under the Patronage of the Ministry of Digital Economy & Entrepreneurship, along with the presence of H.E. Ahmad Hanadeh, H.E, Eng. Adnan Samara, Chairperson, Higher Council for Innovation & Excellence (HCIE) & Advisor to the Palestinian Presidency and  H.E. Ramzi Hamed Al Kabariti Commissioner for Youth and Entrepreneurship – Aqaba Special Economic Zone Authority (ASEZA),
Amman  30th August 2023, witnessed the 2nd edition of the only large-scale B2B conference and exhibition https://jordanstartupexpo.com/ organized by https://thefuture-event.com/ where they bought together the country's most disruptive yet creative start-ups, along with C-Level executives from of the top corporations, government agencies, incubators, investors, HNIs, venture capitals, banks, and technology companies across the Middle East and Globally.
Being ranked 3rd in the Middle East & 64th Globally, Jordan's start-up ecosystem has both regional and international recognition and eyes for the Country's Largest Tech Expo for Start-ups at Jordanwhich was conceptualized to fuel this existing growth and help Start-ups bridge the gap between idea to funding discovering essential solutions and infrastructure to scale and progress. With Odoo being the Platinum Sponsor, Zoho joined as a Gold Sponsor and Tech Minds, Network International and Numny as Silver Partners and other key sponsors and solutions provider that demonstrated their solutions were Blinc, ABXelerate and Bayt.
Jordan Startup Expo in collaboration with Startup World Cup by Pegasus Tech Ventures organised the Largest Startup Competition with a Grand Prize of $1 Million and gave away the opportunity to GGEZ1 to join the grand finale at Hilton Union Square at San Francisco. Apart from bringing in 400+ Attendees, 250+ Start-up Founders, 55+ Speakers and 25+ solution providers, there were multiple attractions, such as Start-up Solutions Showcase, Start-up Awards, Government Participation, Investor Meetings, Pitch Competition, Hackathon, Demo Day, aimed to deconstruct the critical issues, grouped into key themes namely:
The Startup Awards were given to Startup of The Year – Blinc, Best Newcomer – MontyPay,  Founder of The Year – EON Dental, Invester of The Year – O2 Investments, Startup Partner of The Year – Zoho, Best Vertical Startup – Tech Minds Consulting, Best Accelerator of The Year – GenerationS and Bootstrapped Startup of The Year – Inxtinct.
To learn more about the experience, entrepreneurial knowledge and networking, please visit: https://jordanstartupexpo.com/
Share this: