Jungle DEX 2.0: Permissionless Innovation With Automated And Decentralized Listing Process · Elrond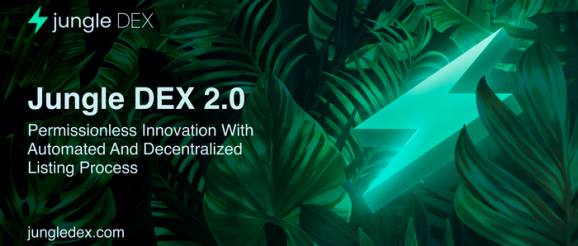 We are at a major turning point where innovation cannot remain limited by boundaries or barriers.
The permissionless nature of Web3 technologies transforms existing products and protocols into powerful building legos that anyone can leverage. The next evolutionary step is to accelerate the innovation pace with immediate access to global markets.
Automated listing process. Lower liquidity requirements. Initial locking period.

With the latest significant upgrade, the Jungle DEX is entering a new era, introducing an automatic and permissionless listing process to reduce the listing friction and help ESDT tokens kickstart their expansion.
This streamlines the listing process by providing a clear framework for any project to use, and removes any subjective involvement, allowing them to create a market for their community and reach new audiences while also offering access to a Maiar Exchange-like premium trading experience.
To further increase accessibility and widen the spectrum of participating projects, the initial liquidity requirements have been lowered from $20,000 USD to $5,000 USD.
The latest upgrade also introduces a 30-day initial liquidity locking period meant to reduce potential risks and encourage users to engage with the new listed tokens.
Listing requirements & Step by step guide

Projects who want to list their tokens on the Jungle DEX should know the following:
Follow this guide to get started: https://jungledex.com/jungle-dex-listing-process.pdf
Jumpstart the next growth chapter

As basements turn into HQs and yesterday's nerds become tomorrow's builders, the journey to rewriting the technology resting at the center of our society has never been more within reach.
Sitting at the crossroads between builders and their communities, the Jungle DEX is perfectly positioned to bring about a new wave of disruptive innovations and initiate a new growth chapter for the entire Elrond ecosystem.
For more information, please visit us: