KADE KEYO Small Business Innovation Challenge (SBIC) winner Emerges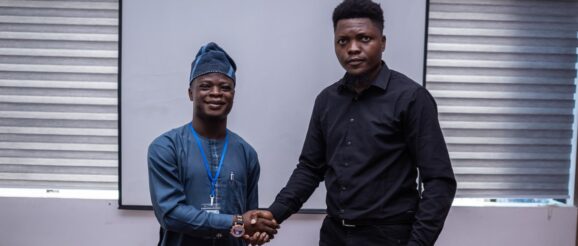 … The winner, Amidu Mohammed, to receive N50,000 cash prize, mentorship, etc.
Amidu Mohammed, founder of Plastibuild Creative Solutions, has emerged the winner of the Small Business Innovation Challenge (SBIC) organized by KADE KEYO.
The winner was unveiled on Friday, August 25, 2023, at the EridanSpace events hall, Ikeja Lagos.
Five small business owners pitched their business models to the delight of the audience and after a thorough scrutiny, Amidu Mohammed emerged winner of the 50,000 naira cash prize.
Plastibuild Creative Solutions leverages innovative upcycling processes to bridge the gap in sustainable products by delivering eco-friendly and affordable consumer products that combine quality and performance and durability at its core.
According to Amidu, "We believe that there is no waste, we rather consider every waste as a resource yet to be explored."
During the pitch presentation, he displayed foot wears made from discarded vehicle tires. As explained by him, these foot wears are made for children and market women who go around bare-footed.
Amidu added that these discarded tires are also used in making furniture for household and office use.
The other four small business owners who pitched at the SBIC are:
Ruth Sampson (Queen Gbeja Enterprise) – This enterprise makes healthy natural healthy drinks and snacks
Tola Mobuse (Lushylosh Concepts) – Tola creates customized designs
Chidinma Echenim (KIA KIA) – This web solution converts excess airtime to cash
Khadijah (Olive Field Eduservices – Khadijah helps people speak the English language with good diction and phonics
The SBIC is championed by Kade Keyo, a champion for the growth of society through Business Development at all levels, for two decades.
This is the SBIC inaugural edition of the project created to drive business development within the small and micro small business community by offering cash grants to the winning pitches, business clinics and interactive networking opportunities for business owners to foster collaboration.
Delivering the opening remarks at the pitch event,  Tanho Attah, the convener, commented on why he decided to create the SBIC project.
According to him, much of the society focuses its direction on large businesses, and a lot of investment globally goes into funding large corporations.
"This is quite personal to us, so we went into the archive, trying to figure out how we can help small businesses, because in the end all large corporations rely on them for distribution, access to the market and cash flow."
Explaining further,  Tanho  said, "Why I created this was to help members of the small business community with the infrastructure and support they may be lacking, which is why one of the qualities of the SBIC is the business clinic, created to help small businesses in what they could do to improve their processes and practices to make them either be sustainable businesses or large businesses of tomorrow that understands what it means to start small and grow. That's essentially the vision for the project"
During the course of the event, he also gave a short business session, where he gave a reorientation about why business owners must drop the belief of knowing it all.
According to him, every business owner starts out with the idea of what they want to create and why they want to create it. Then with campaigns, marketing, and all necessary things for the business to survive that you need to survive as a business.
Explaining further, the most important thing a business owner needs is customers. "Your customers are your clients, the people who buy your business are your investors, the people that you said is that are the ones that will give you the credibility, to be a business"
"If you have 10 customers, every week, you have a business. If your customers come to you every week, you have a consistent business. If your customers talk to their friends and community members about your business, you have a sustainable business."
At the close of the pitch,  Tanho Attah hinted that Amidu emerged the winner because he communicated his idea seamlessly and demonstrated business profitability.
SBIC 2023 edition also provided opportunity for partnerships and potential deals also discussed as the goal is also to encourage small business owners to support one another.
Speaking on his emergence as the winner of the SBIC inaugural edition, Amidu expressed his gratitude and what lies ahead.
"I am very grateful for this opportunity by SBIC and I promise that this fund will be deployed for the tools I mentioned during the pitch session. As an entrepreneur, the terrain is rough, we are always on the lookout for investment, grants, equity and pitches to help us scale further because this is never going to be enough, we will always need more money to grow our business, reach more people and create more impact". Amidu closed.
The post KADE KEYO Small Business Innovation Challenge (SBIC) winner Emerges appeared first on Techeconomy.