Kelchen Named Winner of New Praxidyn 4-H Innovation Award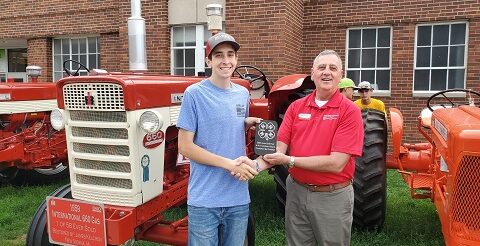 AMES, Iowa – Praxidyn recognized James Kelchen of Dubuque County as the new annual 4-H Innovation Award winner on Aug. 9 at the Iowa State Fair.
Praxidyn is owned by Doug and Kathy Applegate, a fourth generation farming family with a passion for engineering. They saw a need in farming operations to better control and manage the chemical mixing process. They developed automated solutions that save farmers time and money.
The Applegate family visited the Iowa State Fair to judge 4-H projects for exceptional achievement in innovation, engineering, learning and perseverance. Sometimes, the award is given to a youth who took extra steps in the learning process or developed new skills.
Kelchen's winning project was restoring his dad's 1959 International 660 gas tractor pulled out of a grove. He explained in his write-up that the tractor took eight months to fully restore.
"It was a great opportunity for my dad and me to work on this project. I gained a lot of mechanical experience restoring this tractor back to its original splendor. I have taken my tractor on tractor rides and parades," Kelchen explained. "Restoring this tractor will help me in my future plans of being a mechanic. I think it is important to keep these old tractors out of the salvage yards and bring them back to life. It's great to let the younger generation see how our older generation used to farm."
Kelchen explained that every nut, bolt and gear was removed, and the tractor was completely overhauled. He also sandblasted and painted the tractor to prepare it for the fair.
"I learned the importance of taking your time to make sure it was right," Kelchen said. "Only 58 tractors ever sold, so parts were hard to get. I used three parts tractors and had to fix many of the parts. I also learned how to torque bolts, clean parts and paint."
Kelchen grew up on an acreage in Eastern Iowa, where he recalls watching his dad fix tractors. His interest in tractors grew as he and his dad participated in local tractor pulls with antique Farmalls. Kelchen graduated high school in May and was involved in 4-H for eight years. Along with public recognition at the 2023 Iowa State Fair, Kelchen received a $500 scholarship.
"I am sincerely honored to have been selected as the recipient of the 2023 4-H Innovation Award. I want to thank the Applegate family for their generosity in funding this award. It is a great help to me financially. I am currently attending Northeast Iowa Community College in Peosta, where I'm enrolled in the Automotive Technician Program."
"We want to thank Praxidyn and the Applegate family for sponsoring this award program," said Gail Castillo, Iowa State University Extension and Outreach 4-H Exhibits Building superintendent. "We greatly appreciate their support of the 4-H program."
Doug and Kathy's sons, Brent and Luke, were involved in 4-H and FFA. Both succeeded with their 4-H and FFA projects at the county fair and Iowa State Fair. Their projects gained complexity each year, leading to an FFA project that would eventually be the start of Praxidyn. Doug Applegate said part of their success comes from everyone's willingness to put in a little extra effort.
"There's a lot of kids out there who excel in 4-H. It's a family-oriented thing, and they learn so much," Applegate said.
The Applegates now operate the business as a family, which has grown out of their farming operation and expanded. "Opportunities are out there for everybody. If you just recognize them, they are there," Applegate said.
For more information on the Iowa 4-H Youth Development program, please contact your ISU Extension and Outreach county office or visit the Iowa 4-H website at www.extension.iastate.edu/4h.
Shareable photo: Iowa 4-H Interim State Program Leader Mitchell Hoyer (right) congratulates James Kelchen, who received the 4-H Innovation Award sponsored by Praxidyn and the Applegate family.