Kellogg R.&D. exec highlights changes in innovation approach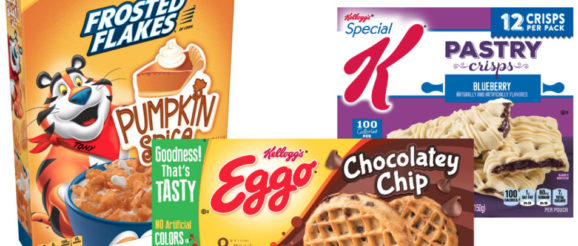 BOSTON — Mega trends that were prominent a few years ago are still around today, only amplified considerably, Nigel Hughes, global head of research and development at Kellogg Co., told participants at the Barclays Global Consumer Staples Conference on Sept. 5.
"Snacking (and) convenience were trends then," Mr. Hughes said. "And they're even more so today. And digestive health and plant-based protein were emerging trends then. And they are today fully blown mega trends."
He said mega trends have been great news for Kellogg because they fit within the Battle Creek, Mich.-based company's portfolio. Taking a closer look at digestive health, Mr. Hughes said the trend has reemerged in a stronger way because of genome mapping technologies.
The number of books and scientific publications citing the biome are rocketing, he said, and the rate of heightened attention is only expected to increase as gene sequencing becomes more and more accessible.
"So the science is here, and the groundswell of buzz and consumer interest is only going to increase," he said. "The good news, Kellogg already specializes in grains and fiber, the cornerstones of a healthy biome. This trend plays to our strength."
To take advantage of the mega trends, though, Kellogg will need to change its approach to innovation, Mr. Hughes said. He explained that the company has made strategic, structural and process changes geared around three basic elements: scientific backing, great taste and a more agile innovation model.
"We're leveraging science in a bigger way," he said. "Many of our brands already play in gut health and plant-based protein, but there's so much more we can do. We just need to be sure this comes out in our food and that we remind consumers about it."
On taste, he reminded that "taste is king for consumers."
"We've added culinary talent, and we've explored new ingredients and flavors," he said. "Everything we make has to taste great."
The final element is development of a more agile innovation model.
"We've improved our speed to market, willing to fail fast and fail cheap," he said. "We're doing more prototyping than ever before. We're launching products in very specific markets or channels, learning from them before we're expanding distribution."
Mr. Hughes stressed that Kellogg is open to ideas from anywhere.
"These ideas are about food, about packaging, about brand communication, anything that excites the consumer," he said. "In an intensely competitive marketplace, it's the quality of the ideas that matters most."
While Kellogg's internal R.&D. capability is a strength, Mr. Hughes said the company is starting to look for new ideas in unconventional places. Examples include: the company's New York City cereal cafe; The Hatchery, a Chicago-based food incubator; Eighteen94 Capital, the company's in-house venture capital fund; and Tiger Tank, an in-house incubator for the development of employee-proposed ideas.
Kellogg also has used its new approach to selectively renovate existing foods. One such product is Eggo, which Kellogg reformulated by removing artificial colors and ingredients.
"We sacrificed no taste, but we gave consumers something they valued, and it worked," Mr. Hughes said.
He said the company also is using its food and effective communication to reshape food beliefs.
"Special K was previously positioned as a diet brand," he said. "But today's consumer isn't looking for diet food. Through thoughtful renovation and innovation and a repositioning to inner strength, this brand has stabilized its share in key cereal markets around the world.
"On digestive health, if you need evidence that consumers are ready to seek that again, look no further than Australia. Here, we didn't have to do anything with our food. It already met the science-based needs of our consumer. We simply reintroduced gut health via effective communication on air and on pack. And these brands bounced back to growth."