KIA's Vision of the Future of EV Design Leaves Mushroom for Innovation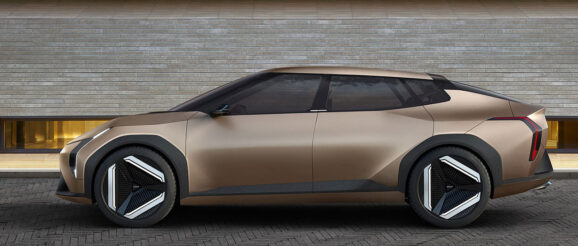 We got to meet the boldly buff 2024 Kia EV9 up close just before driving off in the ludicrously fun Kia EV6, alongside the Korean brand's full stable of electric vehicles during a recent KIA event. Sadly, we never got the opportunity to get behind the wheel of the confidently creased three-row electric SUV behemoth, as the SUV was primarily there to show off the brand's new design language. Nevertheless, we suspected the EV9's presence hinted of even more spirited designs coming down the pipeline. Lo and behold, Kia just announced the impending arrival of the production model Kia EV5 to kick off the brand's self-promoted first annual Kia EV Day, flanked by two additional concept vehicles assigned the Kia Concept EV3 and Kia Concept EV4 nameplates.
The Kia EV5 is a smaller all-electric powertrain powered sibling to the three row EV9, officially launched during the brand's recent Kia EV Day.
The EV5 is a bit of a known quantity already, a crossover previewed earlier this spring, and now nearing production intended for the Chinese market. It's the two new concepts that warrant notice, together solidifying the notion Kia is moving away from its budget brand respectability toward a fully-electrified future nibbling on the heels of the premium segment.
Take the Kia Concept EV4 for example: the EV4's raked profile and more softly sculpted waistline communicate a greater degree of speed than its chunkier EV9 cohort, aligning it closer to the sporty EV6. In fact, the EV4 concept appears to be the outcome of a reductive exercise deemphasizing the EV6's more sinewy styling and reducing its front bumper to pugnacious prominence, resulting in a more sophisticated and futuristic silhouette.
And check out the Kia Concept EV4's futuristic three-spoke triangular wheels.
But the real exciting details are to be found inside the EV4 and EV3 cabins, each operating as the showcase of the brand's trajectory toward integrating bio-sourced and sustainable materials in their efforts to reduce environmental impact (and in the long run, save costs). Earthly aspirations drove Kia's Color, Materials, Finish (CMF) team toward applying natural dyes derived from madder roots and walnut shells and used 100% recycled cotton to render a serene organically-themed interior that brings cars ever closer to a living room vibe.
Inside, that organic atmosphere is taken to an explorative extreme, with mushrooms at the heart of the Concept EV3's console table's soft surface. Grown, rather than molded out of plastic using the dense network of fungal threads of the mushroom known as mycelium, the molded material offers an "extremely soft surface" touchpoint to a part requiring durability and comfort.
"Using mycelium enables us to mimic the processes we see in nature and leverage it to design more sustainable solutions," explains Marília Biill, Head of CMF Design at Kia. "The material can be grown in any shape you want using a mold. The use of mycelium is still at a very early stage, and, as part of Kia's Sustainability Strategy, we are working with partners to accelerate development of the material. One day, by growing our own materials, we'll be able to simplify processes, adapt forms and most importantly, be closer to nature in its essence."
As mentioned, while mycelium-sourced materials hold a great deal of promise, scaling its growth and integrating into automotive manufacturing on a global scale has proven challenging.
More readily attainable is the Concept EV4's console table woven from hemp fibers, a highly sustainable and versatile material already grown and processed at scale. To Kia's credit, the brand has already integrated Bio Polyurethane (PU) as a leather replacement, with car carpets partially made with 100% recycled PET sourced from recycled fishing lines an option.
The Kia Concept EV3's boxy-futuristic exterior belies its organically-themed interior.
The electrification of auto has been welcome in that it has allowed brands like Kia to reimagine themselves once stymied by their past. In sum all three new designs reveal the EV9 was only an amuse-bouche ahead of a multi-course meal of EV design, mapping the evolution of Kia from a once budget brand toward a fully-electrified future nibbling on the heels of the premium segment.