Kingpins Amsterdam: Denim Innovation in Difficult Industry Times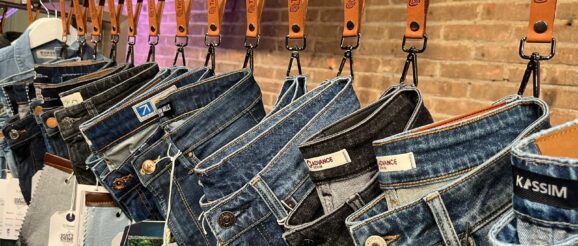 Last week was a busy one for the entire denim industry. The day before Kingpins Show kicked off was jam packed with events. We started with Transformers Foundation's workshop about legislation in the morning, followed by an event celebrating the end of the three-year-long Denim Deal initiative, which included a look at its next chapter.
Kingpins Amsterdam remains the most popular B2B denim event in the world. Mills and brands met and made connections, and attendees listened to panel discussions, took workshops and caught catwalk shows. Day one closed out with an after party. People enjoyed themselves after a busy day with music, food and drinks.
The TENCEL

Denim team presented our latest collections during the show. The Matte TENCEL

Denim collection, created in collaboration with 15 mill partners, received strong attention from the authentic denim lovers as well as those who are willing to discover TENCEL

in different aesthetics.
TENCEL

was also on the show floor via our mill partners. The early samples of the collaboration between Kaihara x Lenzing were of big interest. The interpretation of the iconic Japanese mill created a vast attention. The official launch will be during Kingpins' Hong Kong show, and at the same time Kaihara x TENCEL

Week was held last week in Kaihara Tokyo Showroom for the B2B and B2C promotion of the concept.
The TCE and the Panther Denim Capsule Collections were also in the spotlight for attendees looking for innovation and creativity.
Artistic Milliners presented a capsule collection based on the special 32 mm cut of TENCEL

lyocell, a fiber length that combines better with recycled cotton. With this blend, Artistic Milliners achieved great authentic washes with TENCEL

's premium Tencel hand feel and with a minimal environmental footprint, putting circularity in focus.
The mood in the industry hasn't changed for the most part. The buying power of the consumer is improving slowly, however it is still not fully recovered to give relief to the companies including the brands, retailers and the entire supply chain. Sustainability and circularity remain the buzzwords, while the upcoming legislations are another top-of-mind topic for the industry. Despite denim's flat trend over the last few years, one bright spot was a slightly louder interest in product innovation, which makes us optimistic.
Click through the slideshow below for photos from the events.
The post Kingpins Amsterdam: Denim Innovation in Difficult Industry Times first appeared on Carved in blue – TENCEL™.
The post Kingpins Amsterdam: Denim Innovation in Difficult Industry Times appeared first on Carved in blue – TENCEL™.