LA Fashion Week Showcases Black Innovation | Essence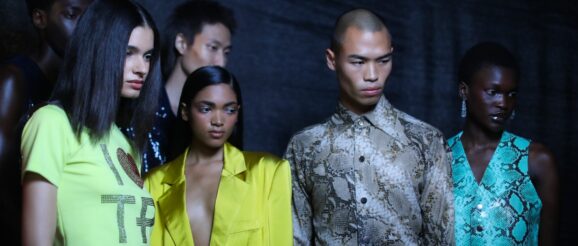 October is well underway, yet that doesn't stop Los Angeles from welcoming the fashion community with mid-80° weather. LA Fashion Week, notably smaller compared to its counterparts, returns after having been acquired by N4xt Experiences in 2022, hosting some of the industry's most promising designers such as Sergio Hudson, Claude Kameni, and No Sesso. Closing out day three of events with its Spring/Summer '24 runway show is CFDA award recipient Edvin Thompson's brand, Theophilio.
On Friday night, Theophilio brought the Caribbean to the Pacific Coast with its latest collection, "Out of Many, One People," which is inspired by Thompson's Jamaican heritage. Reflecting on bringing this idea to Los Angeles, Thompson expands, "With Theophilio, I always think that Jamaica is all over the globe. There are little pockets of Jamaica everywhere, so it's really nice to bring Jamaica to LA Fashion Week." 
Fashion enthusiasts, influencers, and first time spectators alike filled the room in bubbly anticipation for the show. Whether you attribute it to the eased mindset of island life or laid back attitude of SoCal, the energy in the room was social and exciting. 
Individuals across the art community came out to support the show, including Shaun Ross, Jesse Williams, Guapdad 4000, Jeniece Blanchet, and the incomparable fashion icon, Law Roach. 
Kohl Murdock
An attendee sitting in the front row towards the tail end of the catwalk exclaimed, "This is my first fashion show!" As Thompson explained pre-show, that's what it's all about: expansion, brand awareness and inclusivity. He explains that his goal in showing at LAFW is to aid in amplifying the space so that he and other designers have more opportunities to champion diverse identities and stories through fashion. 
"It's not just about myself; it goes back to 'Out of Many, One People', we're being inclusive," he shares. "We are here to celebrate and feel good and that's the whole idea behind Theophilio. We want to [through fashion] champion the best versions of ourselves. Clothes are one of the tools I use to communicate with people, to communicate with the world." 
Kohl Murdock
The conversation Thompson curated Friday night was well received by all in attendance. The set was draped in vibrant yellow which, when reflected off the lights, filled the room with a range of warm hues. Under the warm lights, Theophilio brought the vibrant stories of the Jamaican diaspora to center stage. First to appear down the runway was a menswear ensemble complete with a sequined trench coat, light blue trousers and the brand's staple "I Love TP" bedazzled shirt. The SS24 collection is an extension of last season's, further developing the essence of the brand while offering inventive styles. Crystalized knitwear, boldly colored snakeskin prints, power suits and more made their ways fiercely down the runway as the crowd clapped enthusiastically for their favorite pieces. The red knit catsuit and glimmering yellow knit dress with beaded trim were personal favorites, due to the chic and sensuous feel they emitted. 
Kohl Murdock
In contrast to other fashion weeks, LAFW is designed more like an exhibition, hosted at one primary venue with multiple activations occurring simultaneously. While Theophilio concluded the events of day three at LAFW, earlier in the evening, there were several activations for guests to immerse themselves in. Among them was Advsry's standout presentation, "City of Trees," celebrating the brand's 10th anniversary and showcasing its latest collection. Keith Herron, founder and designer of Advsry expressed, "I wanted to immerse people in the world that I was inspired to do all this in." 
"City of Trees" is an homage to Sacramento, Herron's hometown where his creativity and passions were cultivated. From its inception, Advsry has always been multidisciplinary in nature. The brand utilizes everything from film to art installations, and of course, intentional clothing collections to tell a story. When asked about being a young creative following passions amidst all these mediums, Herron noted, "It's very natural. I never pressure myself to make a decision, I just go by what feels best and what I'm gravitating towards. I think this [presentation] is evidence of that." Herron, surrounded by ten years of creative exploration in the making, reflects on his hopes for the years to come, " [I hope to] keep making projects that inspire me and in turn hopefully inspire others." 
What gives LA Fashion Week its unique spark is its innovation. Ciarra Pardo, co-owner of N4xt Experiences and now, LAFW, says she is most looking forward to bringing versatility to the space. Above all she aims to create a platform that encourages designers and creatives to be as expansive in their presentations as they want. In tandem with the traditional runway shows and fashion presentations are exhibits, interactive experiences, and brand-sponsored installations, all intended to offer a direct to consumer platform for designers. 
To stay at the forefront of the global fashion scene, LAFW must craft its own unique footprint. By showcasing innovative brands such as Advsry and Theophilio, it's carving out its distinct voice in the industry.