"La Sombrita" bus shade structures in Los Angeles: The ridiculous story behind an instantly mocked innovation.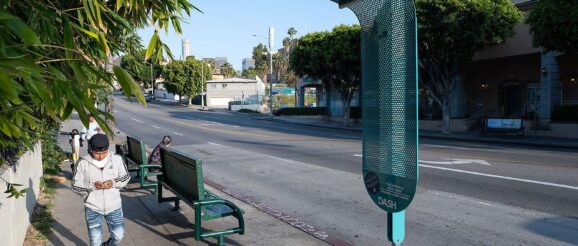 Last Thursday in Los Angeles, city transportation officials held a press conference to proudly unveil an exciting improvement to the too-hot, too-long, and too-dangerous experience of riding the bus in L.A.—an innovative new structure they were calling "La Sombrita," a "shade and lighting pilot" for a "gender equity action plan" to address the needs of women who rely on public transit.
Innovative and shade aren't words that usually go together, but it was possible to be excited. Maybe you're envisioning a spacious, self-cleaning interior festooned with digital screens or at least air conditioning. Or perhaps an array of metal triangles that automatically open and close with the path of the sun—like those cool towers in Abu Dhabi. Or a canopy of photovoltaic panels that make clean energy as it cools pedestrians—as seen on an iconic eco-bike path in South Korea.
At press event for new @LADOTofficial @cd1losangeles bus stop shade/light structure "la sombrita" at 3rd & Union pic.twitter.com/5CgdfNfe2Y
— StreetsblogLA (@StreetsblogLA)
Whatever you're imagining, it probably doesn't look at all like what was ultimately revealed: a Popsicle-shaped metal grate, 24 inches wide, bolted to the top of a bus pole near the edge of the curb. A Streetsblog reporter at the press conference snapped a photo of the little shadow and shared it with the world on Twitter, and it wasn't long before disbelieving users starting throwing a different kind of shade. Another photo, posted by the designers, Kounkuey Design Initiative, revealed the turquoise gizmo's second feature—a solar-powered night light, stashed in the canopy's tiny nook. The photo captured Connie Llanos, the interim general manager of the Los Angeles Department of Transportation, looking up in bewilderment—as if she were having trouble locating where, exactly, the gender equity was.
But to me, the uproar around La Sombrita points to a very specific issue that the shade itself is trying to address, and that's the growing threat of extreme heat in Los Angeles. This is a city where three consecutive mayors, dating back to 2005, have pledged to protect people from rising temperatures and vicious heat waves. And yet here was the transportation department, crowing about a puddle of shade for one, maybe two people. If this was what it considered good work, did Angelenos have any hope of surviving in a much hotter future? If La Sombrita was any indication, the answer was probably not.
L.A.'s political leaders have promised to increase street shade for many years but have been thwarted by two related problems, both of their own doing: The public realm is shaped, designed, and planned to accommodate cars before people, and the city's bureaucrats, planners, and engineers have not been properly directed to work together to ensure shade's provision.
People move here for the sun, but if you ask some of the individuals who make over 642,000 bus boardings every day, many will say it's ruthless and oppressive—a lament that dates back to the 19th century. Although large-canopied trees, like coast live oaks and sycamores, naturally grow in the city's riparian zones, L.A.'s earliest developers much preferred paradisiacal palms—"about as useful as telegraph poles" for making shade, as Grace Ellery Channing wrote in 1899.
Maybe the problem wasn't so bad in her time, what with sidewalk porches fronting bars and hotels and canvas awnings shading the footpaths of streetcar districts. By the middle of the 20th century, all that public shelter was reclassified as sidewalk "projections" and regulated out of existence. By then, the roads had changed too—they were wider, bound in scorching asphalt, and choked with cars, which conspired to make a lot of urban heat.
In 1975 an environmental activist named Ellen Stern Harris begged for shade at her bus stop. Specifically, she wanted a shelter—an aluminum shed framed with clear panels and an overhanging roof. Not long after, JCDecaux, a French advertising company, struck a deal with L.A. to install and maintain these structures on city streets—mostly in the richest, whitest neighborhoods, for the simple reason that ad panels would generate more revenue there.
The need acquired an existential flavor during the recent tenure of Mayor Eric Garcetti, who declared that in an era of extreme heat, his city's unequal provision of shade was an equity issue. Eighteen percent of the city's trees covered less than 1 percent of the population—guess which part. Meanwhile, Black and Latino residents were concentrated in barren, sun-blasted neighborhoods where temperatures were highest. In L.A., people of color are likelier to be transit-dependent, so they were additionally exposed to more hours of potentially lethal heat. It would take years for more trees to grow in. The least the city could do now—to make sure bus riders didn't pass out waiting for a ride to the market, or to pick up their kids from school—was throw a little shade.
Rather than address the literal underlying issue, that sidewalks are consistently narrower in majority-POC neighborhoods and thus too small to support a standard bus shelter, Garcetti's lofty rhetoric culminated in an embarrassing fix: off-the-shelf patio umbrellas deployed as "cool streets" pilots at a handful of bus benches across the city.
Mock La Sombrita all you want, but the fact is this: The shade is more helpful than you think. In sunny, dry cities like L.A., direct sunlight is a major factor in mean radiant temperature, an index that urban climate scientists like Ariane Middel use to quantify human heat load. "Now that I've scrolled through all of these tweets, I'm like, 'What is wrong with all you people?' " the Arizona State University professor told me from her home in Phoenix. This is why Angelenos are always standing behind poles, or sliding up against buildings to catch a sliver of shadow, and carrying around umbrellas in the dry seasons. It's why taqueros cook under pop-up canopies and the fruteros have their rainbow parasols. Shade works—which is why, as the late Mike Davis told me, if the city decided to focus on financing and supporting shade, rather than cracking down on its unpermitted uses, "it could bring about wonders."
As the Twitter dunking continued apace, I called Kounkuey's Naria Kiani, the main designer on La Sombrita, to ask how L.A.'s newest spatially constrained shade structure had come to be. (A similarly designed "shade blade" already rocked the Twittersphere back in 2021.)
Kounkuey has worked on women's issues with the transportation department since 2019, but this specific project emerged in 2022, after convening a group of 10 to 15 women and gender-nonconforming people. Global data showed that women were still more likely to be their household's caregivers and take on domestic responsibilities. In L.A., that often means they're the ones waiting for the bus in the middle of the day. Kiani also heard that they felt threatened by darkness at night.
How could Kounkuey help? The firm designed a custom device to cast shade and make light—but then came the streetscape regulations. The structure couldn't have a wide canopy because it would protrude into the road, or into the 4 feet of sidewalk clearance reserved for wheelchair users. It had to be perforated so the wind wouldn't blow it over. It couldn't have seats, because a bench would also cut into the clearance. (These constraints don't exist next door in the wealthy beachfront city of Santa Monica, where wide sidewalks accommodate big blue parasols and wheelchair users just fine.)
And the firm couldn't move the structure over the benches that were already on that street, because that would spur a six-month review process by the streets department, and the transit agency wanted to pilot some shade now. If Kounkuey had involved the streets department, it would have encountered a bevy of other impediments—things like driveways, curb cuts, utility poles, vaults, and meters, all of which get designed into sidewalks before trees and shelters, and require massive visual clearances so they can be seen by oncoming drivers. Bit by bit, the shelter was whittled away, until all that remained was an elaborate piece of wayfinding. Kiani insisted that if riders were unhappy with the product, Kounkuey would try another design.
As hard as it is to believe, Los Angeles is one of the few American cities that's actually ahead of the curve in planning for a future of extreme heat—a hugely consequential project that's still in its infancy. It's 1 of 2 U.S. cities with a chief heat officer—a new kind of municipal position to coordinate other departments on short- and long-term heat-related projects. It has access to $800 million in California funds designated specifically for adapting to this threat. It has the University of California Los Angeles, a world-class university with researchers and scientists who are dedicating their lives to better understanding heat. A hand-picked "tree czar." And an engaged public—parents, bus riders, and activists who are all demanding more shade.
As yet, as La Sombrita shows—in a very literal sense—it's not enough.
Right now, every city in America—with the possible exception of Duluth, Minnesota—is at a crossroads with heat. Their planners and engineers can design and implement adaptation solutions that conform to the built environments they have inherited today, through things like cool pavements, which lower the heat retention of roads, and tiny shade structures that fit in the tiny apertures of the public realm accidentally spared by cars. Or they can start to think long-term—as they are doing in New York, Miami, and Houston with the challenge of sea level rise, building seawalls and pump stations and raising streets—and remake their cities to withstand the heat tomorrow.
Kounkuey's designers traveled to London, Quito, Ecuador, and Hamburg, Germany, to learn about street shade. Perhaps they also should have visited Barcelona, Spain—where Mayor Ada Colau has figured out how to make it, not with press conferences and doohickeys but with bold moves and smart governing. On Sunday, voters will decide whether to reelect her to a third term and to continue a world-beating plan to take cars off the roads and fill those spaces with people and trees. To execute such an ambitious plan, which cuts across so many levels of city government, her deputy mayor Janet Sanz brought four different agencies under one roof: environment, transportation, urban planning, and the chief architect, all known simply as "urban ecology." The oft-repeated laments I hear in Los Angeles—that the countless infrastructure agencies don't talk to one another, that they're stuck in silos and are too busy covering their own asses to bring Angelenos the kinds of streets they need and deserve—cease to exist.
As Middel says, any shade is better than none at all. It does offer some relief. But it does not begin to abate the larger heat-island effect created by the six-lane roadway it stands next to. It is not enough for the city's leadership to say it cares about shade and then give someone—sorry, two people—a Sombrita. If Mayor Karen Bass is sincere about her stated desire to protect Angelenos from heat, then she needs to ensure that all departments share that goal, and that they are publicly accountable for projects in vulnerable communities that point in the same direction. The urban forester's desire for bigger canopies and the street designer's plan for a real bus shelter cannot be overruled by the transportation department's desire to keep traffic moving smoothly on urban arterials. They have to work together to shade L.A.'s hottest neighborhoods—a job that will never end if the best we can do is pilot it 24 inches at a time.