Land and Survey Dept wins 3 gold medals for public service innovation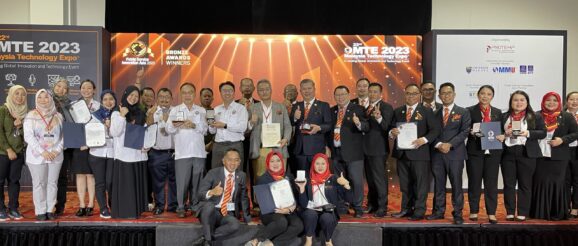 Land and Survey Department delegation members pose with their prizes.
KUCHING (Mar 18): The Sarawak Land and Survey Department won three gold medals in the Public Service Innovation Award (PSIA) category at the Malaysia Technology Expo (MTE) 2023 on Friday.
The medals were for three of the department's innovations, namely Smart Target Accurate Reference Solution (STARS), e128 Loss of Land Title Online System and MySmartTOL.
In a press statement, the department said STARS was developed by the VTECHXII team from the Serian Land and Survey office; e128 by the Kuching office; while MySmartTOL by the Limbang office.
"Another innovation called the Intelligent Recovery System (i-Recovery) by the Ruai Vaie D9 team from the Bintulu office won a silver medal," it said.
The awards were presented by the Ministry of Local Government Development deputy secretary-general (Planning and Sustainable Environment) Datuk Saidatu Akhma Hassan at the World Trade Centre in Kuala Lumpur.
"This year is the fifth year of participating in MTE since 2019. Since the first participation through our innovation Sarapeg, the department always displayed outstanding achievements such as winning gold medals as well as receiving special award recognition from various local and international innovation and creativity institutions.
"Among the criteria evaluated for the determination of this achievement are the importance and the significance of the project, the creativity of the innovation developed and the impact as well as results of the project to the organisation or the state," it said.
The department added that the STARS project was also given international recognition when crowned as the Special Award recipient from the International Alliance of Innovation and Invention