Learning through art innovation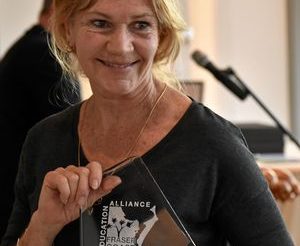 AT MARYBOROUGH Special School all of Rose Wright's students are cultivated by the arts.
The Fraser Coast Education Alliance 'Innovation in Education' award winner has been at the local school for 11 years and during that time has nurtured the only all year levels arts program for special needs children in Queensland.
"My drive in teaching has been to be as innovative as possible which was integrating the Australian curriculum with the arts," Ms Wright said.
"My arts program covers five strands of the arts; visual arts, ICT, dance, drama and music."
Ms Wright explained all her art teaching has alignment with other subject outcomes.
"For example there are mathematical undertones of reading music and conceptual understanding to be gained from dual body movement in fine and gross motor skills in dance classes of hip hop, ballet and tai chi," she said.
"These things are integral parts for development for any child with any type of disability and even multiple disabilities," Ms Wright said.
The avid arts lover also uses her classes to give back to the community and provide students with a performance platforms.
"My five groups have given free performances during NAIDOC week and the Mary Poppins Festival," she said.
"We are being invited to more and more venues across the year.
"My program has assisted in the students developing self confidence."
Last year Ms Wright was in the Queensland Ballet ambassadorship program where she initiated teaching ballet in special education.
As well as her everyday classes, Ms Wright runs extension programs including singing, keyboard, painting and guitar.
"In 2015 we held a full stage production at the Brolga Theatre. To my knowledge it is the only production in Queensland where an entire special school was included in the performance," she said.
"My arts and curriculum program about inclusion and experience and I believe in the last 10 years it has lead to higher learning and thinking skills across the curriculum for our students."
Coming from a background in community and cultural development, Ms Wright's resume includes working with at risk indigenous children, adults with disabilities and homeless children.
"I just want to thank the community who have assisted in funding my resources."
Learning through art innovation
28th Aug 2018 12:00 AM
Subscriber only