Legal Sea Foods will open an innovation center in early 2024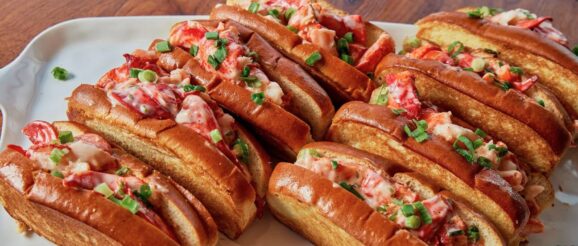 Legal Sea Foods will open an innovation center in early 2024
The company also recently moved into a new headquarters space at the Boston Fish Pier.
The ever popular Legal Sea Foods restaurant chain is making some advancements through the development of a new innovation center.
Legal Sea Foods will open a 30,000 square-foot space that will support "culinary and beverage innovation," according to a press release. The facility, funded by parent company PPX Hospitality Brands, will support quality control, a central commissary, e-commerce fulfillment, and other operations. It will launch in Milford, most likely in January or February 2024, said Legal Sea Foods president and chief operating officer Matt King.
"When I look at the innovation center, I look at it as an opportunity," said King. He added that it represents a chance "to get like minds that are thinking about how we continue to make the experience in our restaurants and when we deliver to people's homes better."
Legal Sea Foods and PPX Hospitality are partnering with Clarke, who represents the brands Sub-Zero, Wolf, and Cove, to create the innovation center. There, they will run a commissary kitchen for their restaurants, preparing clam chowder soups, sauces, and stocks. They will also be able to produce items to be sold through their e-commerce program. A test kitchen will allow them to try out new recipes, and a full scale bar will let the company train staff to make cocktails. A television studio will also serve as a space where video for training or marketing can be generated. PPX also owns and operates restaurants Smith & Wollensky and Strega Italiano, who will use the center.
As part of the brand's growth, Legal Sea Foods moved into PPX's new headquarters at the Boston Fish Pier approximately two and a half months ago in what King called "a swap."
Legal Sea Foods and PPX's other brands had previously occupied a 75,000-square-foot space in the Seaport that functioned as a seafood processing plant, commissary kitchen, and office space. PPX sold it to Stavis Seafoods and in turn took over their facility at the Boston Fish Pier, using it for modern offices. These house Legal Sea Foods' departments such as accounting, human resources, marketing, and IT. Smith & Wollensky and Strega Italiano also occupy the new headquarters space. King said that switching spaces with Stavis Seafoods produced a positive outcome for both brands.
"[The old facility] was really getting outdated and needed a lot of work put into it," he said. "It wasn't exactly what we needed it to be for the future. So, we made a decision, because [Stavis Seafoods] really aggressively wanted that space… The building was suited for what they needed."
In February, Legal Sea Foods launched a new online shop, responding to customer demand. At the website, clientele may purchase lobster roll kits, high quality fish, crab cakes, chowder, and more. The opening of the innovation center will also give the company a facility that can manage the high volume of requests that the website has been handling. Furthermore, Legal Sea Foods has plans to open a Logan Airport location in the winter of 2024.
King is optimistic about the steps that Legal Sea Foods is taking to expand as a company, particularly regarding the innovation center.
"I'm hoping that when we open this, this will be the catalyst to us really being able to push the marketing behind our e-commerce business," he said. "[We want it to] realize its full potential, without the restriction of space. I'm also looking forward to what we can continue to do to evolve our menus within the restaurants, with our increased capacity and technology, within this space."
Sign up for The Dish
Stay up to date on the latest food news from Boston.com.