LG's Bold Innovation in the World of Digital Creativity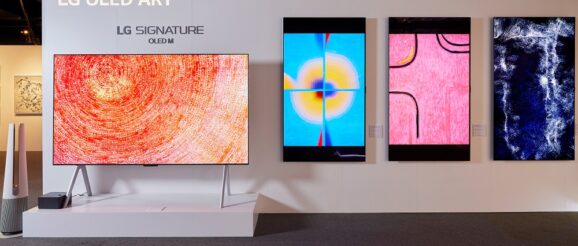 LG welcomes you to step into a world that challenges the boundaries of digital creativity, exploring remarkable possibilities with the fusion of art and technology. The company illustrates a commitment to inspire audiences to reconsider established artistic expressions and actively supports artists in unlocking their creative potential with the evolution of digital art.
LG proudly marked its return to the Digital Art Fair (DAF) as an Exclusive Screen Partner for the second consecutive year. Held in Hong Kong from October 20 to 23, LG OLED illuminated the realm of digital creativity at the event, captivating the art world with innovative technologies. LG's unique LG Diversity of Art exhibition zone presented a range of digital artworks to encourage attendees to reimagine the boundaries between digital art and the real world with the integration of art into everyday life.
At DAF, LG unveiled the OLED SIGNATURE M3, the world's first wireless OLED TV1, for a stunning debut in Hong Kong. Notably, LG left a remarkable impression with this cutting-edge wireless OLED TV by showcasing "14-III-72 #223," a renowned painting by Korean master of abstract art, Kim Whanki, brilliantly reimagined through digital expression. Following its initial appearance with the M3 in Freize Seoul, LG's presentation of this digitally expressed masterpiece at DAF in Hong Kong served as a source of inspiration for both artists and art enthusiasts. The wireless 97-inch OLED TV faithfully portrays the vibrant details of the thousands of red dots that make this piece so special, elevating the immersive experience for art enthusiasts with advanced wireless video transmission and a massive screen.
The 97-inch OLED M3 boasts self-lit OLED technology that provides unrivaled picture quality on an ultra-large screen and Zero Connect technology that allows instant audio and video transmission at up to 4K 120Hz., for a distance of up to 10 meters2 between itself and the screen. This cutting-edge innovation enhances the freedom and flexibility of the audiovisual experience, providing a super-smooth and immersive viewing experience.
Furthermore, as an Exclusive Screen Partner, LG provided around a hundred LG OLED units to showcase a diverse collection of digital art pieces at the event. Visitors were engaged in a world of vivid and dynamic digital art created by popular artists, including Refik Anadol and Yang Yongliang.
Another highlight at DAF, LG presented unique media art pieces with the LG MAGNIT 136-inch Micro LED display in collaboration with LED.ART, a renowned media art content platform, leaving visitors in awe of the vibrant colors and unparalleled quality. Immersive visual effects and ultra-fine details were powered by Micro LED display technology, with LG MAGNIT display's accurate color purity and wide viewing angle bringing the art to life. This partnership highlights LG's commitment to actively participating in art events and signifies a new chapter in LG's technological advancements in the realm of art.
LG also introduced the LG PuriCare

AeroFurniture Bored Ape Edition, featuring four bored ape avatars from the renowned NFT collection owned by Francesco Lee (aka DAC4Academy). Merging digital art with the versatility of home appliances, this unique collaboration offers a multifunctional art appliance, underscoring a compelling connection between digital art and household products.
LG PuriCare

AeroFurniture Bored Ape Edition will be launched as a limited edition with only 100 pieces. The four different designs will inspire customers who pursue interior design with new ways to express personal taste, redefining the possibilities between digital art and the real.
LG continues to deliver enriching art experiences, exploring the close connection between art and technology through inspiring exhibitions and compelling collaborations. Stay tuned to the LG Newsroom for the latest updates and stories.
# # #
1 World's first and only wireless OLED refers to OLED TV with 4K 120Hz wireless connectivity between TV and screen.
2 Applies only when the Zero Connect Box is placed in a direction facing the screen.