Little Millennium: Nurturing Innovation in Education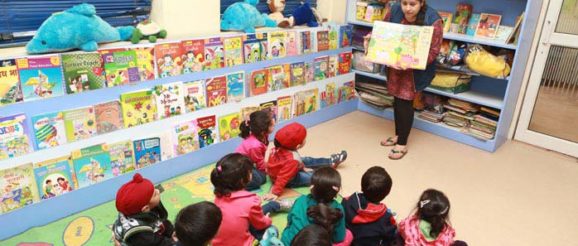 Guided by the spirit of every child is unique, Little Millennium has been at the forefront of bringing innovative products in the early childcare space in India for over a decade, says Raman Bajaj, CEO, Little Millennium Education Pvt Ltd, in conversation with Elets News Network (ENN).
How the practices followed at Little Millennium Preschool provide its students with fun learning and allaround skill development?
Raman Bajaj, CEO, Little Millennium Education Pvt Ltd
Little Millennium's key value proposition and its core differentiator is its scientifically developed "Seven Petal" curriculum, which ensures the overall holistic development of every child, through play activities and collaborative group work. The curriculum's seven key development areas for children include: cognitive development, fine and gross motor skills, language development, personal awareness, socio-emotional development and nurturing individual potential. The curriculum is delivered using the Eclectic Approach that takes the relevant strategies and methodologies from multiple schools of thought on early childhood from across the world, to improve learning among preschoolers.
A young learner's day at Little Millennium is a healthy mix of play (structured play and free play), fine motor activities, cognitive activities, language learning and so on. Little Millennium's sports curriculum called Kickers Club – a first of its kind sports curriculum, is uniquely designed for kids in 3-6 years age bracket. This curriculum helps children inculcate the love for sports at an early age and develop collaborative skills. Also, we foster a love for sports and yoga amongst our young learners through a path-breaking practice called the Story Yoga that combines the joy of listening to stories with desired outcomes by enacting the same through simple stretching exercises and yoga asanas. This ensures the perfect all-round growth of the child's body and mind.
How the preschool maintains a safe, hygienic, comfortable yet a fun-filled learning environment for students?
As a responsible playschool chain, we have an exhaustive list of safety and security compliance measures which includes measures such as restricted entry into the school premises, police verification of support staff, strict use of Escort cards during dispersals, school premises under CCTV surveillance, training to teachers on incident management and reporting, fire extinguishers and first aid kits, among others. Regular audits by our teams ensure full compliance with all safety measures. In addition, our business partners and teachers are regularly trained on fostering emotional literacy, which caters to the emotional and psychological wellbeing of our children.
How are you ensuring in the curriculum to enable the children become future-ready in career?
We created India's first scientifically developed preschool curriculum that focuses on the holistic development of each child, based on sequential learning and developmental milestones. Our stimulating environment and scientific curriculum nurtures the roots and lays the foundation to help every child achieve success in all phases of life.
What methods are adopted at Little Millennium to enhance parents' involvement in holistic development of their wards?
At Little Millennium, we conduct interactive and engaging workshops on joyful parenting, especially for parents. These workshops are aimed to create awareness about the joys of Parenting and are designed to help parents nurture their children through behavioural deviations and habit disorders such as throwing tantrums, anger and aggression, nail-biting, laziness, boredom etc. and give them an environment of positivity that is truly holistic. These interactions cover important topics like the key challenges in parenting, understanding of early childhood years and developmental needs of children.
Grab the opportunity to meet the who's who from the world of education. Join us for Higher Education and Human Resource Conclave in Jaipur, Rajasthan on 6-7 September 2018. It will be a wonderful occasion to explore business opportunities. Like us on Facebook, connect with us on LinkedIn and follow us on Twitter.
>