Macfarlane's Innovation Labs aim to boost pack design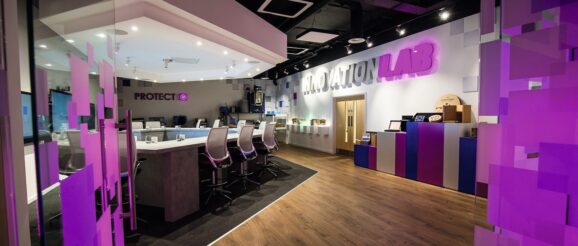 This April Macfarlane opened a £1.3m packaging Innovation Lab at its flagship Northwest Regional Distribution Centre in Heywood, near Manchester, following on from its Milton Keynes Innovation Lab (opened in 2016), which has been hosting three to four customer visits per week on average.
Richard Garratt, head of design at Macfarlane Packaging, said: "Our most successful sessions have been where we have had a brand manager, head of marketing, head of sustainability, packers, supply chain staff, logistics, all in the same room. Everybody has their own set of objectives and somehow they need them all to link."
Rachel Fellows, national account director at Macfarlane Packaging, said the firm can recommend a series of different packaging products but key is how customers then use it.
"That's a discipline of pack methods with sustainability if you can cut down waste significantly. The purpose of this and the Milton Keynes facility is to meet the needs of our existing major accounts while constantly delivering improvements, but also to help generate new business and to differentiate Macfarlane Packaging.
She said the services provided by Macfarlane's Innovation Labs are very much in demand, and account managers are able to brief the team and leave with a fully digitally printed working prototype of the protective packaging that they need.
"We always recommend the least amount of packaging to do the function of the job. It's our job to minimise the packaging and offer protection. We are always looking for solutions to reduce void fill requirement by structuring the packaging to hold its own and hold the product in place internally."
She said that by introducing integral void reduction systems from the waste area of the blank our designs can block out the internal footprint of the transit carton thereby reducing the amount of voidfill required to pack.
Garratt added: "We are designing the carton to work with the protective packaging consumable rather than just focus on the corrugated aspect."
The Macfarlane rapid box assembly frame is a device designed to quickly construct an optimised 0427 box. Created by the in-house design team at Macfarlane's Innovation Labs, the optimised box is said to be 14% stronger than standard 0427 FEFCO style carton, uses 13% less material and is 35% less wasteful.
Macfarlane said the optimised box also removes the need for gluing and improves pallet yields by up to 100%. The knock-on effect it fewer transport runs, lowering associated CO2 emissions and improved handing times.
Furthermore, Macfarlane is rolling out its patented Push 'n' Pack assembly jig, which it says cuts carton and corrugated packing time down to seconds on high volume packing lines.
Fellows told Packaging News the price-point as well as the time-saving per carton are attractive for high volume packing – especially where companies use temps and packers.
"What customers tend to do is get their highest usage carton line and reorganise their pack bench with the relevant jig drilled on to the pack bench."
Garratt said the jig can be used on other designs as well, as part of the design initiative: "These can be made to particular footprints within a certain restriction, bespoke to a customer."
He said the company tries to guide packers on tapes: "Small quantities of plastic tape left on boxes may pass through the recycling process, as many UK recycling plans have mechanical processes to remove them. However it is ideal if the end user safely removes any non-recyclable material, such as plastic tape, plastic banding or staples, from corrugated cardboard before it is recycled. This minimises contamination and avoids unwanted material clogging up the recycling machinery."
Overall, he said the two Innovation Labs can encourage customer loyalty: "They focus on how they can improve the end customer experience too. For example, they work with businesses on connected packaging projects that can help align their digital and physical customer journeys and work to build brand loyalty through amazing unboxing experiences."