Macquarie University: Innovation in Business and Economics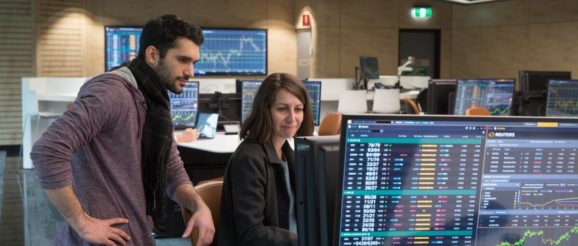 "Macquarie has a very high reputation in the business area. It is not like an academic-focused traditional university. It's the environment of creativity and innovation at Macquarie that attracts me." – Qing Sun, Bachelor of Commerce (Majoring in Marketing)
Macquarie University in Sydney's burgeoning Macquarie Park Innovation District has firmly cemented its reputation as a thriving hub of discovery. Uniquely and conveniently located at the beating heart of Australia's hi-tech district, students here gain fluent and well-versed in the latest emerging technologies.
With more than AU$1 billion being invested in top-of-the-range facilities and infrastructure, Macquarie's main priority is clear: to create a conducive learning environment in which both creative and scientific minds are empowered and able to flourish.
Source: Macquarie University, Faculty of Business and Economics
Macquarie's Faculty of Business and Economics is an academic force to be reckoned with. This world-reputed, specialist faculty attracts independent thinkers from all corners of the globe, granting them the knowledge and insight needed to make a positive impact through comprehensive research, visionary analysis and inspiring leadership of thought.
The faculty that houses the original Business and Economics faculty, the Macquarie Graduate School of Management (MGSM) and the Macquarie Applied Finance Centre (MAFC), offers a comprehensive range of world-renowned study choices. It provides engaging, transformative education; one that is inherently academically robust, ultimately producing qualified graduates who positively influence society and are sought by world-leading companies.
But what makes this faculty really stand out? Its commitment to granting students access to visionary education, unrivalled amenities and unparalleled opportunities.
Cyber Security Hub
Recognising an issue that leaves businesses, governments and societies worldwide vulnerable to attack, the Optus Macquarie University Cyber Security Hub is a multidisciplinary network that seeks to provide expertise, leadership and solutions to the cybersecurity challenge.
Formed as a unique collaboration between Macquarie and Optus, the Hub represents one of the world's most dynamic powerhouses dedicated to addressing cybersecurity issues from governance to intelligence and analytics in the digital environment.
Based on an industry set for rapid growth as we move through the digital age, the facility offers valuable programs, exchange between academics and practitioners opportunities, and experiences for the future generation.
Business Innovation Challenge
Macquarie's Business Innovation Challenge (BIC) gives learners an edge, arming students with 21st century skills that allow them to succeed in the modern workplace.
Here, creativity is seamlessly paired with ingenuity, developing students' skills that enable them to be desirable global contributors and citizens in the ever-changing professional world.
The BIC does not use simulation, nor hypotheticals. It challenges learners with authentic real-world problems, and a direct access to business partners in the development of feasible solutions. It looks at situations with an integrated mindset, creativity and visions. Here, students learn the concept of stakeholder interests and seek to find solutions currently faced and validated by global business organisations.  Both students and businesses are excited with the experience and the benefits that bring them productivity, impact and efficiency out in the field and beyond.
Macquarie Park Innovation District (MPID)
The MPID is one of the institution's greatest assets, standing as Australia's premier innovation district.
Home to 180 industry-leading international companies, plus 200 small to medium businesses (SMBs), incubators, the Macquarie hospital and Macquarie itself, this exceptional facility forms the bedrock of success for the aspiring business mogul.
Led by Macquarie University, it allows economic and intellectual assets to combine, facilitated by the expertise and devotion found at Macquarie, within its faculty. It's an economic powerhouse, with the number of its stationed employees and professionals set to triple this next decade alone. Students of the faculty have direct access to this cutting-edge region, forming a fundamental part of its exponential and continuing growth.
Through a specially-tailored program of events, incubation activities and exercises that build ties between businesses, entrepreneurs and researchers, MPID becomes the catalyst that brings diverse enterprises together, letting them become far greater than the sum of their parts.
Macquarie Incubator
The Incubator is a brand-new space in which students, staff, SMBs, entrepreneurs and start-ups work side-by-side, producing research or unique ideas that can eventually be commercialised. A number of successful start-ups were born and funded here.
Here, learners enjoy free desk space, meeting areas and instant access to a flourishing entrepreneurial community, not to mention countless workshops, simulations and training activities.
It's an accessible space in which concepts are cultivated, nurtured and refined, granting invaluable exposure and a wealth of business opportunity.
PACE and MENTORING
These worthwhile learning strategies run comfortably beside Macquarie's study programs. They are units and activities specifically designed to secure employability skills, with over 30,000 placements, 2500 business partners and 300 sponsoring companies offering executives to provide mentoring and corporate experience directly related to your degree.
Source: Macquarie University, Faculty of Business and Economics
"My internship involved me looking after the day to day management of the budget, and also helping the marketers in day to day operations, as well as helping out with the financial planning for the new financial year," says Ronan Chander, a former PACE participant.
"It's really crucial to get that kind of practical experience outside of what you do, because it really shapes up and rounds up everything that you've learned at uni…The structured learning I got through the PACE unit, along with my practical application through Microsoft, really helped me get from an intern into a fully-fledged graduate in one of the biggest companies in the world."
An outstanding education in the heart of the nation's innovation capital…
Not only do these elements emphasise Macquarie's uncompromising commitment to student success, but they also make its graduates among the most employable in both Australia and the world.
"I chose Macquarie because of its international reputation with companies in the corporate world," says Utkarsh Saxena, an international student from India, currently studying the Master of Accounting (CPA Extension) at Macquarie.
"In all aspects, Macquarie is a good university. It's big, close to the city, yet still peaceful. If you want to make your name in the corporate world," he states, "come to Macquarie."
Follow Macquarie University on Facebook, Twitter, YouTube, Google+, Instagram and LinkedIn
Liked this? Then you'll love…