Major digitisation announcements at Innovation PNG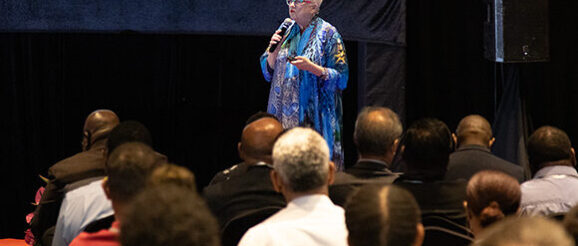 Last week's 2023 Innovation PNG conference showcased some of Papua New Guinea's best and brightest. It also featured the announcement of some significant new initiatives to stimulate the digitisation of the country's economy.
Keynote speaker, futurist Dr Jane Thomason, highlighted some of the areas where PNG could participate and even excel in the digital economy. Credit: Godfreeman Kaptigau/BAI
A full-day program featured four international keynote speakers presenting in person, including senior representatives from KPMG, Mastercard and Konica Minolta, augmented by virtual contributions from major international tech companies Google and Meta (owner of Facebook, Instagram and WhatsApp) and local corporates such as ExxonMobil, PNG Dataco, Trukai and Coca-Cola Europacific Partners PNG.
The conference also showcased twelve local innovation case studies, including the winners of the 2024 Innovation PNG Awards, rideshare business ODESH, digital identification project Digizen ID, a graduate of the Bank of Papua New Guinea's regulatory sandbox, and the International Finance Corporation's green buildings certification program, recently launched in PNG.
'We envision this as a space where start-ups can propose, develop, and test innovative solutions tailored for government needs.'
The conference also featured workshops on innovation, cybersecurity and a panel on developing PNG's tech capabilities held in conjunction with the PNG ICT Cluster. An expo featuring tech and related exhibitors ran concurrently.
Broad church
A feature of the event, which was attended by over 400 delegates, was the mix of both corporate and government delegates, combined with a large contingent of small-and-medium-sized businesses, as well as tertiary students.
'No-one sector owns innovation in PNG – it's something we can all do at every level – and collaboration between the private sector and government is key, as is the development of skills in the next generation of Papua New Guineans,' said Rio Ficco, President of the Port Moresby Chamber of Commerce and Industry, which co-hosted the event with Business Advantage International.
Open platform
Minister of ICT, Timothy Masiu. Credit: Godfreeman Kaptigau/BAI
Emphasising the need for greater collaboration between government and private sector, Minister for Information and Communications Technology Timothy Masiu used the event to announce the government would be opening up its own cloud-based infrastructure to encourage greater private sector involvement in the digitisation of government.
The new Open Innovation Platform, supported by infrastructure provided by state-owned telecommunications infrastructure provider, PNG Dataco, is set to be launched in January 2024.
'This platform is specifically designed for our budding start-ups, allowing them to harness the power of cloud capabilities,' he told conference delegates. 'We envision this as a space where start-ups can propose, develop, and test innovative solutions tailored for government needs.'
Meanwhile, the Secretary for the Department of ICT, Steven Matainaho, announced an eGovernment portal for the public, covering functions such as taxation, police checks, business registration, superannuation and education was currently in its procurement phase.
Infrastructure expansion
Paul Komboi, CEO of PNG Dataco, also presented an update on the 15-year plan to dramatically upgrade and expand the country's IT infrastructure. Noting that only 25 per cent of PNG's population currently has access to the internet in some form, he said the plan provided for the connection of all districts across the country by 2027, using a combination of fibre, tower and satellite connectivity.
Notably, Komboi also announced the introduction of 'neutral' mobile phone towers, which could potentially be used by any telecommunications provider. (Currently, telcos Digicel PNG, Telikom PNG and Vodafone PNG do not share their extensive tower networks with each other.) Five hundred such towers are planned eventually, Komboi revealed, as is an expansion the Kumul Submarine Cable Network.
The conversation continues
Innovation PNG 2023 was the second such event, following the inaugural conference in 2019.
'What the event shows clearly is that PNG can innovate as well as anywhere and that there is a clear appetite from business and government to work more closely together in this space,' said Andrew Wilkins, Publishing Director at co-host Business Advantage International.
'POMCCI and ourselves wanted to create both a vehicle to push the conversation about innovation forward, and also provide a source of information, energy and inspiration. We're hope that Innovation PNG will return again in the not-too-distant future.'
The post Major digitisation announcements at Innovation PNG appeared first on Business Advantage PNG.