Mallard Manufacturing to Open the Mallard Innovation Lab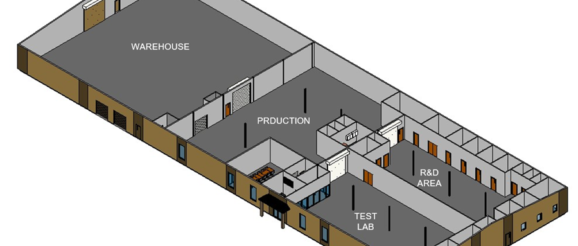 Mallard Manufacturing, a gravity flow storage systems provider, announces an expansion plan that includes a 30,000 sq. ft. facility equipped with advanced robotic and automated manufacturing technology as well as a dedicated research and development area to produce new products and identify expanded applications.
The highlight of the Innovation Lab for customers will be the enhanced live-feed testing center. Customers will virtually join and participate in testing of their gravity flow project designs. Mallard testing is conducted using customer-supplied materials (pallets, totes, boxes, inventory) prior to finalizing project orders to ensure that the system design is optimized to perform as expected. It is a free service provided exclusively by Mallard.
An immediate focus of the new R&D center will be to address the rising demand for pallet separators as warehouses implement more AGV (automated guided vehicles) and robotic picking equipment. Pallet separators isolate the front pallet from the rear pallets in the pitched flow lanes. Eliminating the pressure of the rear pallets is a critical safety concern for these automated systems and a range of other applications.
Mallard Innovation Lab will also include dedicated space for private offices and collaborative workspaces.
Mallard Innovation Lab Vision 
Improved plant efficiencies
Shorter lead times
Enhanced live-feed client testing
New product development
Advanced plant automation & tooling
"By implementing automation enhancements, innovative tooling, and robotics, we can ensure timely, cost-effective, custom solutions," says Kevin Risch, President, Mallard Manufacturing.
"Our goal is to deliver an unparalleled customer experience. This includes bringing as many systems and component manufacturing processes in-house as possible to control quality and  supply products on demand. Our interactive testing lab will allow customers to be a virtual yet integral part of their simulation test and, ultimately, the development of their custom solution," adds Risch.
Mallard Manufacturing has completed three expansions since 2015, including transitioning carton flow products manufacturing from the Sterling, IL, plant to a dedicated Maquoketa, Iowa facility.
Mallard expects to begin full production in the new Mallard Innovation Lab in Fall of 2023. For more information about Mallard Manufacturing's expansion and gravity flow products, please email [email protected] or call 1-844-347-5141.
The post Mallard Manufacturing to Open the Mallard Innovation Lab appeared first on Material Handling Network.